27 May 2010 Edition
Passing the buck
Back in March, people tuned into RTÉ news to see a young family with no parents make a plea for their missing brother Daniel. Images of the baby-faced 17-year-old were flashed on the screen and voiced over by his tearful sister pleading for anyone who knew anything to come forward, and for Daniel McAnaspie to make a safe return home.
The report led us to believe that the young working class man had fallen in with a bad crowd, in a rough part of Dublin. We drew our own conclusions.
Over the subsequent days and weeks, we learnt more about Daniel. How he had entered state care at the age of ten, following years of neglect and abuse. How he had shown a 'positive attitude' towards school, but was way behind his peers - yet his dyslexia was not noted until four years later. How he had been cut in the throat aged 13, while roaming the streets, under the state's care. He narrowly survived. Report after report, increasingly so in the last year of his life, showed Daniel had become a risk to others and a risk to himself. Drug use, abuse and negligence had all taken their toll, first on the little boy, then on the man.
On the 14 May, RTÉ ran another piece about Daniel. His body had been found in a field in Meath. He had been stabbed to death.
His death, we were initially led to believe, brings the number of deaths of children in HSE care to 24. Over the weekend, speculation mounted that that figure coud be as high as 200. And this figure ignores the hundreds of illegal immigrant children who have gone missing in this state over the past number of years. It ignores the number of children who should be in care, but are ignored by the system.
The reaction to Daniel's death and the ever-growing horror of this story has been predictable from the government. They wring their hands, they talk about legislation, they haul HSE bosses in for explanations.
They pass the buck around without any of them accepting that they have built a state where children's rights do not matter. They cannot even bring forward a referendum on children's rights.
Sinn Féin has battled tirelessly against the HSE and government policy on children for years. What will it take for them to listen? The loss of one child in state care should be more than enough.

An Phoblacht Magazine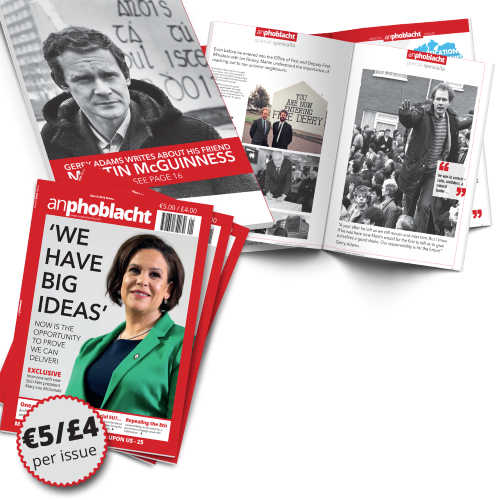 AN PHOBLACHT MAGAZINE:
The first edition of this new magazine will feature a 10 page special on the life and legacy of our leader Martin McGuinness to mark the first anniversary of his untimely passing.
It will include a personal reminiscence by Gerry Adams and contributions from the McGuinness family.
There will also be an exclusive interview with our new Uachtarán Mary Lou McDonald.
test