20 May 2010 Edition
Pfizer job losses another crippling blow to Irish labour market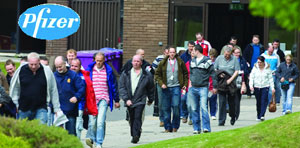 THE announcement on Tuesday by pharmaceutical multinational Pfizer that it is to cut 785 jobs at its operations in Ireland is another, crippling blow to the Irish labour market while the Government has no coherent job-creation strategy, Sinn Féin said.
Sinn Féin's spokesperson on Enterprise, Trade and Employment, Arthur Morgan TD, said the absence of a "concrete job-creation package" is crippling our economic recovery.
"We have been told time and time again that pharmaceuticals will be integral in the development of Ireland's smart economy, yet the Government have failed to capitalise on this high-end industry which has the potential to create employment for thousands of skilled people across this state.
"While Pfizer are cutting jobs globally, this has dealt another crippling blow to the Irish labour market, where there are no prospects of alternative employment.
"The Government and its ministers are quick to get a photo taken when there are any new job announcements but they are consistently absent from the coalface where people are losing their jobs.
"The Government is failing the people of this state and the absence of a concrete job-creation package is crippling our economic recovery."