20 May 2010 Edition
Sinn Féin DID warn Cowen & Co about the property bubble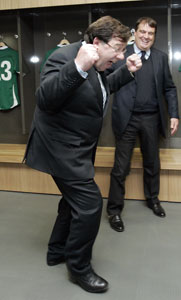 CLAIMS last week by Taoiseach Brian Cowen that no one in the Opposition issued any warnings about the property bubble and the excesses of the Celtic Tiger speculators have been rejected by Sinn Féin, who challenged Fianna Fáil to check the Dáil record.
Sinn Féin Finance spokesperson Arthur Morgan said Brian Cowen's under-stated acceptance of responsibility for the economic and banking crisis is an attempt to hide the true extent of his and his party's failings.
Deputy Morgan countered Brian Cowen's claims that there were no warnings from the Opposition benches in relation to the property bubble. Sinn Féin repeatedly raised it in the Dáil but were ignored, the Louth TD said.
"The growth that supported Ireland's Celtic Tiger was a mirage, as the Government rode on the back of a private sector intoxicated by property revenues. The vacuum left behind when the credit flows stopped made both employment and public finances implode.
"Fianna Fáil tied their policies to electoral gains rather than proper financial and risk management. The artificial Celtic Tiger brought in the votes and so Fianna Fáil and the Taoiseach himself were happy to keep stoking these fires."
Arthur Morgan added:
"If the Taoiseach is so confident that there were no warnings from the Opposition benches in relation to the growth of a property bubbles, he should take a look at the Dáil archives where Sinn Féin deputies are on record as warning against the dependence on property revenues. Neither Fianna Fáil nor Brian Cowen were willing to heed our warnings and now they are not willing to accept full responsibility for the crisis engulfing this state."
He reminded Fianna Fáil that Sinn Féin repeatedly tackled ministers in relation to their failure to tackle escalating house prices.
"We called for the introduction of a tax on second homes to curb growing house prices where investors were pricing first-time buyers out of the market; we opposed the cutting of Capital Gains Tax on the basis that it would fuel the property bubble and make it more profitable to speculate in property than to run a business - and we were ignored.
"Sinn Féin opposed unsustainable cuts in taxes and highlighted the danger in the over-dependence on taxes related to consumption and construction and the over-dependence on the construction sector for employment.
"Sinn Féin may not have advocated the 'in vogue' economic policies of the Celtic Tiger but we proposed measures that would have insulated us from one of the severest recessions this state has ever seen."