20 May 2010 Edition
They only want the truth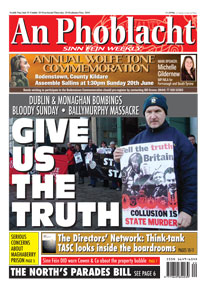 THE survivors and the families of the victims of the Ballymurphy Massacre in 1971, Bloody Sunday in 1972, and the Dublin and Monaghan bombings in 1975 are still waiting for the truth to be revealed.
Eleven people were shot dead in Ballymurphy, west Belfast, by soldiers of the British Army's Parachute Regiment during the first three days of internment in August 1971.
The Parachute Regiment went on within a matter of months to perpetrate the murderous assault on Civil Rights marchers in Derry on Bloody Sunday in 1972. Fourteen were killed.
In 1975, bombs were exploded in Dublin and Monaghan by loyalists controlled, directed and resourced by British Military Intelligence officers. Thirty-three people were killed and almost 300 wounded - the highest number of casualties in any single day during the conflict. A number of media investigations (mainly by the British media) have pointed to strong evidence of the involvement of the British military and security services. No one has been charged let alone convicted in connection with the attacks.
THE Ballymurphy families are winning support for an independent inquiry into what happened over those three days in 1971.
The Bloody Sunday relatives have laid a demand on the Cabinet table of David Cameron's and Nick Clegg's new government  for the Saville Inquiry Report - held back from publication after the Westminster election was called - to be published without any further, unnecessary delay.
The Dublin and Monaghan relatives want the British Government to stop ignoring the all-party motion that was passed by the Dáil in July 2008 calling on the British Government to allow an independent, international judicial figure access to all original documents held by the British state concerning theses events.
They only want the truth.
An Phoblacht Magazine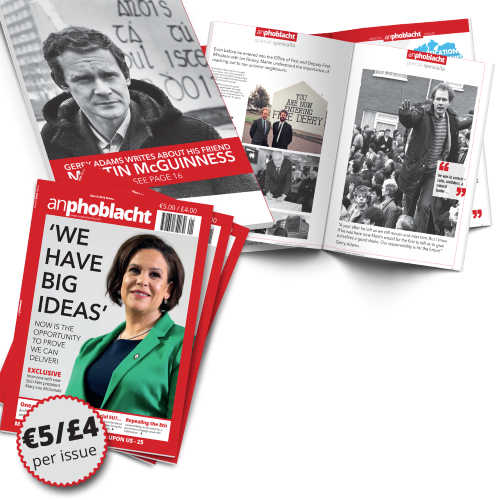 AN PHOBLACHT MAGAZINE:
The first edition of this new magazine will feature a 10 page special on the life and legacy of our leader Martin McGuinness to mark the first anniversary of his untimely passing.
It will include a personal reminiscence by Gerry Adams and contributions from the McGuinness family.
There will also be an exclusive interview with our new Uachtarán Mary Lou McDonald.
test