6 May 2010 Edition
CRH's Dun Laoghaire AGM the focus of Israeli divestment campaign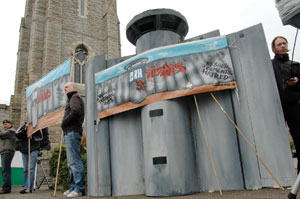 AS we go to print, the AGM in Dun Laoghaire of Cement Roadstone Holdings, the Irish multinational building materials firm, was the focus of the campaign to have its shareholders demand that the company divest itself of any involvement in apartheid Israel.
The company currently has a major stake in an Israeli company that produces 85% of all of Israel's cement. This cement is being used by the rogue Israeli state to further its illegal occupation of Palestine and to build a massive apartheid wall which will effectively annex nearly 50% of the West Bank.
The International Court of Justice has ruled the Wall illegal. In 2008, the Dutch Bank ASN divested itself of its interests in CRH as it deemed their activities in Israel were not in line with the bank's ethical policies and the UN's demand to stop all support for Israel's settlement activities.
Palestine protest at The Spire this Saturday
CHILDREN'S SHOES will be symbolically laid around The Spire on Dublin's O'Connell Street this Saturday (May 8th) at 1pm to commemorate the Nakba – the ethnic cleansing of Palestine which led to the establishment of the exclusivist state of Israel.
The event is being organised by the Ireland Palestine Solidarity Campaign.
In 1948, over 700,000 Palestinians  – including hundreds of thousands of children – were driven from their homes, civilians were massacred and hundreds of Palestinian villages deliberately destroyed; this expulsion continues today.
An IPSC spokesperson said: "We can't stop yesterday's atrocities; we must prevent today's."
The names of the villages displaced during the Nakba will be inscribed in chalk on the ground.
This demonstration will be fully stewarded but the IPSC asks that all children under 16 are chaperoned by a responsible adult.