6 May 2010 Edition
Timely tribute to a hunger striker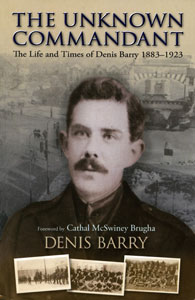 Book review
The Unknown Commandant - The Life and Times of Denis Barry
By Denis Barry
Published by
Collins Press.
REVIEWED BY MÍCHEÁL Mac DONNCHA
OF the 22 Irish republicans who died on hunger strike in the 20th century, probably the least well known are the three who died in Free State custody in the immediate aftermath of the Civil War. This book redresses the balance in the case of Denis Barry of Cork, who equally deserves to be remembered for the significant role he played during the Tan War.
Denis's nephew and namesake has produced a succinct yet comprehensive narrative, combining family history with an overview of the 1916 to 1923 period, especially in Cork, and a well-documented account of the hunger strike and its aftermath.
Denis Barry commanded the Irish Republican Police in Cork City during the Black and Tan terror, winning widespread respect for his fairness and efficiency. As a member of the Cork Brigade Staff he was a close comrade of Tomás Mac Curtáin and Terence Mac Swiney and deserves to be remembered alongside them. A talented hurler he had won All-Ireland honours with the legendary Blackrock Hurling Club.
An active trade unionist, he was a voluntary official in the Drapers' Assistants' Union. He was an early member of the Irish Volunteers, moving to Kilkenny in 1915 where he was rounded up in 1916 and interned in Frongoch.
IRONY
In 1917, Denis played a prominent part in the Kilkenny by-election which saw WT Cosgrave elected for Sinn Féin; six years later, Cosgrave headed the Free State regime that imprisoned Denis and caused his death. The irony was compounded by the fact that, in 1922, Denis helped to supervise the counting of disputed votes in Cork in the June general election. The winner in the constituency was Michael Collins who, just before polling day, broke the election pact that had been agreed at the Sinn Féin Ard Fheis and was designed to prevent conflict between pro-Treaty and anti-Treaty forces.
11,000 INTERNED
Denis opposed the Treaty and in October 1922 was arrested by Free State forces and interned in Newbridge, County Kildare. An incredible 11,000 republicans were interned by the Free State in 1922/23 and a mass hunger strike began in the autumn of 1923. Denis joined on October 17th and died in the Curragh Military Hospital on November 20th 1923.
The Free Staters refused to release Denis's body to his family and buried him within the camp. After legal action was taken they allowed the body to be exhumed. Then the Bishop of Cork, Daniel Cohalan, intervened. He refused to allow Denis's body into any church in Cork and the funeral had to proceed without clergy. Cohalan was an arch-hypocrite who had paid tribute to Terence Mac Swiney on his death, excommunicated IRA Volunteers in the wake of the burning of Cork by the British, banned Denis Barry's body but then allowed funeral rites for another IRA Volunteer, William Healy, a year later.
Denis was pre-deceased on hunger strike by Joseph Whitty of Wexford and followed by Andy O'Sullivan of Cavan and Mallow. Similar tributes to this should be paid to those hunger strikers.
This book will be of special interest to Cork republicans but it is of value to all those interested in Irish history.
An Phoblacht Magazine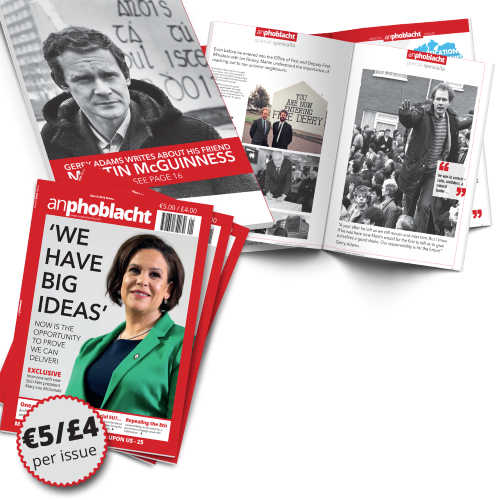 AN PHOBLACHT MAGAZINE:
The first edition of this new magazine will feature a 10 page special on the life and legacy of our leader Martin McGuinness to mark the first anniversary of his untimely passing.
It will include a personal reminiscence by Gerry Adams and contributions from the McGuinness family.
There will also be an exclusive interview with our new Uachtarán Mary Lou McDonald.
test