6 May 2010 Edition
Ombudsman to investigate PSNI agent provocateur claims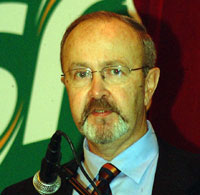 THE Police Ombudsman is to investigate the PSNI after it emerged that a vulnerable 19-year-old had been recruited to act as an agent provocateur and informer.
West Belfast teenager Thomas Boyle, who has a history of drug abuse and self-harm, was pressurised to act as a PSNI agent after he was caught shoplifting. He revealed the kind of actions he was instructed to undertake by his PSNI handlers during a media interview last week.
As well as spying and planting tracking devices, Boyle was also told to plant a weapon and explosives to incriminate individuals believed to be active 'dissidents'.
Boyle admitted he was told to plant Semtex in a neighbour's shed and plant a gun in his neighbour's car. His PSNI handlers also pressurised Boyle to join a particular group of 'dissidents'.
The teenager was given mobile phone Sim cards to contact his handlers and claims he was encouraged to make hoax bomb calls at specified times.
According to Boyle he was promised £2,500 but only ever received £50.
PERVERTING JUSTICE
Usually the Ombudsman initiates an investigation in the wake of a complaint but where there is clear public interest he has the power to proceed without a specific complaint.
Announcing his investigation, Al Hutchinson said the allegations against the police made by Boyle included attempts to pervert the course of justice.
"The police actions must be investigated fully. If people are to have confidence in the criminal justice system they must be assured that the police are not above the law," said the Ombudsman.
The recruitment of a vulnerable teenager and the way in which he was used as an agent provocateur is also to be raised with the Policing Board.
Sinn Féin Policing Board member Alex Maskey said that while the use of informers is standard practice for police services the world over, there has to be a proper protocol.
"Obviously we have a history of political policing which has seen the use of agents provocateur. Clearly allegations such as these need to be scrutinised," said Maskey.
FORMER PRISONERS
According to Boyle, he was given the names of 10 people who lived in his area and told to spy on them. Among those Boyle was instructed to watch were former IRA prisoners Tommy Tolan and Gerard McCrory.
Both Tolan and McCrory served prison sentences after being convicted in relation to the abduction of one-time INLA leader Bobby Tohill in 2004.
The two men have been subjected to ongoing police harassment since their release from prison. According to Boyle, he was offered payment by his handlers to plant a gun in McCrory's car and ammunition in a garden shed belonging to Tolan.
McCrory said:
"It's former RUC men who have been stopping me and a few times have told me that they'll have me back in jail so I've no doubt that there are still dirty tricks at play here."
Tolan added:
"We are both being set up in an attempt to put us back in jail; I've no doubt about that."