6 May 2010 Edition
BOBBY SANDS LECTURE: Bobby Storey, Chairperson of Belfast Sinn Féin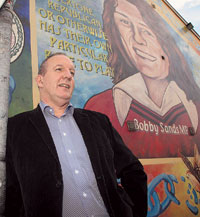 'We care about our struggle for a united Ireland'
BELFAST SINN FÉIN chairperson Bobby Storey addressed the annual Bobby Sands lecture held in the Andersonstown Social Club on Sunday, May 2nd. The annual lecture was part of a series of events over the past week, attended by several hundred republicans, to commemorate the lives of the 10 men who died in the 1981 Hunger Strike.
Hunger Strikers Pat Sheehan and Mary Doyle spoke to a large crowd of young people on Saturday May 1 about the experience of the Hunger Strikes in Armagh Women's Jail and the H-Blocks of Long Kesh, and of its enduring legacy.
Twinbrook Councillor Charlene O'Hara chaired the youth meeting, at which Bobby Storey also spoke about the experience of campaigning in support of the Hunger Strikers on the outside in 1981, and the significance of the election of Bobby Sands in the Fermanagh/South Tyrone by-election.
Sinn Féin President Gerry Adams was among those who participated in the annual Bobby Sands mountain walk challenge on Sunday. Several hundred republicans also held white-line pickets last night at several locations across Belfast to mark the anniversary of Bobby Sands's death.
This is Bobby Storey's speech.
"IT'S good to see so many young people here tonight – it demonstrates just how interested young people are in the history of republicanism and the Hunger Strike.
The Hunger Strike has been used as a form of protest in Ireland going back throughout our history. During the time of the Brehon laws, the most strident protest a person could make against an injustice was to hunger strike at the door of their offender to shame them and expose their offence to the community.
It is a very emotive method of protest and it is distinctly Irish.
Like so many Irish men and women before them, when the republican prisoners in the H-Blocks of Long Kesh and Armagh Women's Jail were left with no alternative, they used their bodies to protest against injustice.
Whilst at events like this evening's we tend to focus on how Bobby Sands and his comrades died, we must remember too how they lived  – for the struggle, until their last breath.
As the 30th anniversary of the Hunger Strike approaches, we take this opportunity to once again commemorate the lives of our comrades, to highlight the struggle they died for, and to protest against the atrocities visited on our friends and neighbours on the outside during that period, like Julie Livingstone, Nora McCabe, John Dempsey and others.
It is especially important that our young people are given a sense of the importance of these events.
Hunger Strikers Pat Sheehan and Mary Doyle joined me on Saturday in addressing a large group of young people on the Hunger Strikes.
Pat made the point that the republicanism that Bobby lived for, and ultimately died for, was a revolutionary commitment to improving the rights, lives and well-being of the people of Ireland. It was not about egoism, militarism or adventurism.
I've been struck in recent days by the media pre-occupation with who is going to win the British election. What struck me was that when the British Army was shooting on sight in our areas, it didn't matter whether it was a Labour or Tory government in power  – the killings were the same, the gunmen were the same. It was no less than Irish citizens being killed on Irish soil by a foreign army of occupation.
That's why it is of little importance to us which party forms government after the election on Thursday –  it is not our government and it is not our parliament. We refuse to swear an oath of obedience to a British queen and we are not their subjects.
The huge sacrifice of the Hunger Strikers cut straight through the campaign to denigrate and criminalise the prisoners. The British and Irish establishments threw everything they had into this campaign in an attempt to smear Bobby and his comrades, and those tactics are as alive today as they were then.
The establishment media is still fighting that war.
Just last year there was a resurgent media drive to dishonour the Hunger Strikers and their sacrifice and, as much as it failed back in 1981, it fails again today.
Similarly, today there is a media drive to smear republicans and to blind the Republican Movement to our strengths. But against all of that, broad republicanism is growing and thriving across the North.
This was not how it was supposed to be – we were not supposed to be the biggest party in Belfast or hold the largest vote across the North in what is a disintegrating Orange state.
It was not meant to be that the SDLP were in disarray and unionism in chaos. Above all, we are certainly not in the place they had planned for us  – as the strongest political force in the North.
Our opponents are in a spin.
The UUP are backing the SDLP in South Down in order to prevent a republican winning.
In Fermanagh and South Tyrone, the Orange Order have organised a unionist/Tory alliance, facilitated by the SDLP, to take the seat off a hard-working young mother who has fought for equality for all rural communities.
Against this chaotic backdrop, we continue to work away and develop our strategy for a united Ireland. But don't ignore the agenda coming at us – there is a collective assault from securocrats, MI5, agent provocateurs and phoney journalists, to undermine republican strength.
All of which has coalesced in a campaign to undermine Gerry Adams as the leader of republicanism.
Our enemies want to tell us who our leader is and is not. They've attempted to smear him, his proud history of leadership, and the community he represents. They have shot him in the past and this week he has received his fifth death threat in as many months.
Is all that about Gerry?  No it is not. It is about them going for the leader of republicanism to undermine him and thus us and our strength.
We don't much care about what happens in Britain. What we do care about is Ireland's political future. We care about our struggle for a united Ireland. It is we who will decide who our leaders are. It is our choice; it is not the Brits' choice. It is our decision, not a decision to be made up by a British-led assault on republicanism.
On Thursday the people of west Belfast have a huge opportunity to say louder than ever what we think about our friend, our comrade and our neighbour, Gerry Adams.
Finally, the greatest honour we can give to Bobby Sands and the Hunger Strikers, and all the men and women who fought and died for Irish unity, is to ensure that this generation of republicans succeed in achieving a united Ireland. And I firmly believe we will. Tiocfaidh ár lá!"
Also See: Remember the H-Block Hunger Strikers
             Bobby Sands H-Blocks candidate and MP for Fermanagh/South Tyrone, died May 5th 1981
             and Remembering 1981: Francie Molloy on the Bobby Sands election campaign
Pat Sheehan and Mary Doyle