6 May 2010 Edition
Every vote counts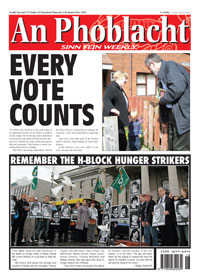 VOTERS in the North go to the polls today in an important election for the future of politics on this island. The North has been transformed in recent years and Sinn Féin has been the driving force behind the huge political progress that has been made. This election is about continuing that process of change.
Sinn Féin is providing leadership to defend the Peace Process, leadership in tackling the economic crisis and leadership in opposing cuts.
Sinn Féin is the only party in the election with a coherent, viable strategy for Irish reunification.
In this election, every vote counts. So use your vote and vote Sinn Féin.