29 April 2010 Edition
HEAD SHOPS: Sinn Féin members take action, on the streets and in the Dáil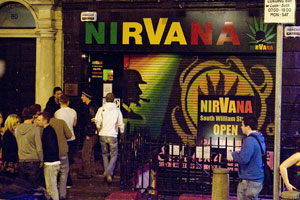 Protesting Sinn Féin TD threatened with gardaí by 'head shop' owner
Another shop says it will close
SATURDAY saw Sinn Féin protesters target four 'head shops' in the Dublin South-Central area in another of a series of actions by Sinn Féin up and down the country.
Aengus Ó Snodaigh TD was joined by Councillor Críona Ní Dhálaigh and nearly 30 other demonstrators who gathered outside the premises on Thomas Street, Meath Street, The Coombe and Clanbrasssil Street to highlight the dangers of the poisons being sold to young people from these stores.
The owner of Meath Street's Liberty Head Shop stated that she was closing within the fortnight. The Voodoo Head Shop, in The Coombe, closed it shutters while the protest continued. At the Nirvana Head Shop the owner threatened TD Aengus Ó Snodaigh that he would call the gardaí "over obstruction of his business"! This didn't deter the TD or the protesters and they have vowed to return regularly to keep up the pressure.
The pickets reported tremendous goodwill from passers-by, many of whom joined the protests for a while or related the experiences of young relatives or friends who had ended up in the city's Accident and Emergency units as a result of 'legal highs'.
 
BRAY
 
ENNIS
 
CLONDALKIN 
 
BANDON
 
CORK CITY 
 
LEINSTER HOUSE 
Not so 'Happy Hippy Shop'
TRALEE Sinn Féin held three protests outside 'head shops' in the County Kerry town last week.
Kerry TD Martin Ferris, accompanied by Councillors Cathal Foley and Toiréasa Ferris, along with a large group of Sinn Féin members and supporters, withstood bad weather to attend the protest outside the Happy Hippy Shop in the town.
The head shop remained closed for business during the protest, undoubtedly costing the owners a lot of money.
Local Sinn Féin representatives say that the feedback from local people was very, very positive.
As part of an ongoing campaign against these shops, another protest will take place  at 2pm this Saturday and parents or individuals concerned about the impact of these substances on our communities are invited.
Head shops Bill to control 'legal highs' published by Sinn Féin TD
A NEW law aimed at controlling what 'head shops' can sell legally and put them out of business if they're selling dangerous substances under false pretences was launched on Tuesday by Dublin south inner city Sinn Féin TD Aengus Ó Snodaigh.
Aengus Ó Snodaigh says that head shop owners are making huge amounts of cash out of loopholes in the law. The Sinn Féin TD's Bill will close these loopholes by setting up a new authority with the power, expertise and the drive to quickly clamp down on dangerous substances being sold in high street shops.
The new agency would work with Customs and the Gardaí to force importers and sellers of all substances that could be 'legal highs' to have them licensed and have their activities closely monitored by the law or face heavy fines and/or jail terms.
Licence fees would be channelled back into the agency to help fund its operation. The new agency – the Non-Medicinal Psychoactive Substances Regulatory Authority – would be complementary to the Alcohol and Drug Research Unit of the Health Research Board and the National Drugs Strategy.
Deputy Ó Snodaigh said:
"Head shop owners have been running rings around the law, knowing that what they are doing is endangering people's lives and health but they just don't care so long as they are making a fortune out of 'legal highs'.
"My Bill is aimed at protecting public health and putting a stop to this reckless trade; that is why I am appealing to TDs of all parties and the Government to back this new legislation to take action that is long overdue."