29 April 2010 Edition
Community anger at killing of Seamus Fox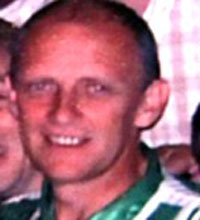 AS HUNDREDS of people gathered in West Belfast on Wednesday for the funeral of 58-year-old Seamus Fox the mood of anger at his brutal killing is still palpable.
The father-of-eight was attacked and beaten to death as he returned home in the early hours of Thursday morning from a nearby social club. A young man who came across Mr Fox's body described the scene of the attack as having "blood everywhere".
An 18-year-old has appeared in court and has been charged with murder. He had handed himself in to the PSNI in Antrim Town.
The Lenadoon community has been shocked and angered by the violence and brutality of the attack that left Seamus Fox dead but the community is also angry that the attack could be carried out literally below the sangar of the PSNI's Woodbourne Barracks.
At a vigil held in the area at the Suffolk Road shops on Friday night, at which Sinn Féin Assembly member Sue Ramsey read a statement on behalf of the Fox family,  anger was evident.
Residents spoke of their disgust at what happened but expressed their frustration that nothing had been done over the months and years about the gangs of youths who gathered in the lower Suffolk Road area to drink, set fires and practically turn the area into a no-go area
Many community workers from West Belfast also attended the vigil. They spoke of the need to "do something about these hot-spots where gangs gather and intimidate residents. There needs to be a multi-agency approach involving statutory agencies, the PSNI and the community," said one.
FORUM RESPONSE
Meanwhile, the West Belfast Community Safety Forum met in the west Belfast offices of the Community Restorative Justice (CRJ) to discuss their response to the Fox killing.
Harry Maguire, chair of the group, said the meeting was about "tightening communication between the community and the PSNI".  He said:
"It is important that we allay the fears of the community and deal with their concerns."
The Forum was set up in the aftermath of three murders in the west Belfast area. Greengrocer Harry Holland was killed in September 2007, stabbed to death as he confronted a gang trying to steal his van. Five months later, John Mongan was hacked to death in his home off the Falls Road. Republican former IRA Volunteer and POW Frank 'Bap' McGreevy was killed a month after that, in March 2008.