29 April 2010 Edition
Westminster Election profiles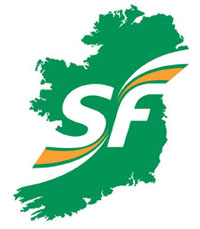 BY ROBBIE SMYTH
Mid-Ulster
    vote    % of poll
1998 Assembly    20,305    40.8%
2001 Westminster    25,667    51.1%
2003 Assembly    20,194    45.5%
2005 Westminster    21,641    47.6%
2007 Assembly    21,094    47.6%
IN TERMS of recording the highest Sinn Féin vote share, Mid-Ulster has run consistently second to West Belfast in the strength of the party vote. Sinn Féin took three seats here in 1998 and 2003.
Martin McGuinness is aiming for his fourth successive term as an MP for Mid-Ulster. His electoral history begins in 1982 when he was elected to the Prior Assembly. In 1997, Martin was elected MP for the Mid-Ulster constituency and re-elected again in 2001 and 2005. In 1998 and 2003, he was elected to the Assembly for the same constituency.
He became Minister for Education in the new Assembly in November 1999 and in May 2007 Martin was appointed as joint First Minister in the Executive
Martin's history of political activism began when he became involved in the Civil Rights movement in Derry after 5 October 1968 and joined Sinn Féin in 1970.
Since Martin was elected to the Ard Chomhairle of Sinn Féin, he has played a major role in promoting and supporting the strategy of the current Peace Process. He is Sinn Féin's Chief Negotiator and he has actively assisted other fledgling peace processes throughout the world. Martin has represented Sinn Féin in high-level discussions with political leaders in Europe as well as America.
Since entering the Office of First and Deputy First Minister, Martin has continued to work tirelessly in delivering for citizens across the North.
Newry & Armagh
    vote    % of poll
1998 Assembly    14,052    26%
2001 Westminster    17,209    30.9%
2003 Assembly    18,852    39.8%
2005 Westminster    20,965    41.4%
2007 Assembly    20,879    42.1%
THE Sinn Féin vote in Newry  & Armagh has grown steadily over the last decade, culminating not just in the 2005 breakthrough when Conor Murphy won the Westminster seat but also in consistently solid performances at Assembly elections, taking three of the six seats in 2003 and 2007.
Conor Murphy was first elected to the Newry & Mourne Council eight years before his first Assembly victory in 1998. Conor was Party Chief Whip and also held the position of Group Leader of the Sinn Féin MLAs in the Assembly.
Conor is the current Minister for Regional Development in the Executive – having overseen the construction of the new Newry Rail Station, the A1 dual carriageway from Newry to Belfast, and has advanced the plan for the Southern Relief Road in this role.
He has been a key member of the Sinn Féin negotiating team with particular responsibility for institutional issues and represented the party at the Leeds Castle, St Andrew's negotiations and the most recent negotiations with the DUP at Hillsborough which secured the transfer of policing and justice.
Conor has lived in Camlough where he plays an active role in community life, working with the various community regeneration, development and Féile Festival committees. He was formerly chairperson of the Bunscoil an Iúir Board of Governors.
Strangford
    vote    % of poll
1998 Assembly    614    1.4%
2001 Westminster    930    2.2%
2003 Assembly    1,105    3.0%
2005 Westminster    949    2.6%
2007 Strangford    1,089    3.0%
MICKEY COOGAN is a founder member of the Betsy Gray Sinn Féin Cumann and was elected to Down District Council in May 2005. He has held several key positions on the council, including chairperson of the Policy and Resources Committee, the Culture and Economic Development Committee, the Health Committee and the Recreation and Community Services' Committee.
Mickey has represented Down Council on several outside statutory bodies such as the SEELB, the Down District Policing Partnership, the Down Community Safety Partnership, Citizens Advice, East Border Region Committee and the Down Rural Area Partnership. Mickey is currently the chairperson of the Recreation and Community Services Committee.
Mickey has worked on providing new leisure centres in Ballynahinch, Saintfield and Newcastle, and throughout the year he has engaged with a wide range of local sporting groups and other stakeholders in a bid to secure additional funding to enhance recreational amenities to the area.
Upper Bann
    vote    % of poll
1998 Assembly    7,216    14.3%
2001 Westminster    10,771    21.1%
2003 Assembly    9,494    21.8%
2005 Westminster    9,305    21%
2007 Assembly    10,851    25.3%
SINN FÉIN have consistently elected an Assembly member in this constituency since 1998 and the vote which grew nearly 50% between the 1998 and 2001 elections increased again in the 2007 Assembly elections as the party targeted a second Assembly seat alongside sitting MLA John O'Dowd.
O'Dowd grew up in the Tullylish area of Banbridge and currently resides in Lurgan. He has been an active member of Sinn Féin for 25 years, and is a member of the Sinn Féin Ard Chomhairle. He has served as a councillor on Craigavon Council for three terms and is currently in his second term as an MLA for the Upper Bann constituency, having topped the poll in the 2007 Assembly election.
A former chair of the Public Accounts Committee, John is currently the Sinn Féin spokesperson on Education, a member of the Assembly Education Committee and the Sinn Féin Group Leader at Stormont.
West Tyrone
    vote    % of poll
1998 Assembly    15,666    34.1%
2001 Westminster    19,814    40.8%
2003 Assembly    16,111    38.6%
2005 Westminster    16,910    38.9%
2007 Assembly    18,437    44.5%
NOT ONLY did Sinn Féin increase its vote in 2007 and add a new Assembly seat, winning three, the party's candidates also topped the poll coming 1, 2 and 3 on the first count.
Pat Doherty, an Assembly member for the constituency since 1998, was elected an MP in 2001, retaining the seat in 2005.
Born in Glasgow of Irish emigrant parents from Donegal, Doherty also repeats an electoral precedent for Sinn Féin in this election as he is the only candidate to stand in both Six-County and 26-County elections. He was as a candidate in Donegal North-East and in the Connacht/Ulster constituency in the EU elections in 1989 and 1994.
Pat has been a central figure in the development of the Irish Peace Process and of Sinn Féin's strategy and was Sinn Féin vice-president from 1989 to 2009. Pat has worked tirelessly at local, national and international level and also in delivering tangible benefits for the people of West Tyrone, from sorting out the everyday bread and butter day issues of constituents to delivering on socio-economic issues of strategic importance for the constituency.
An Phoblacht Magazine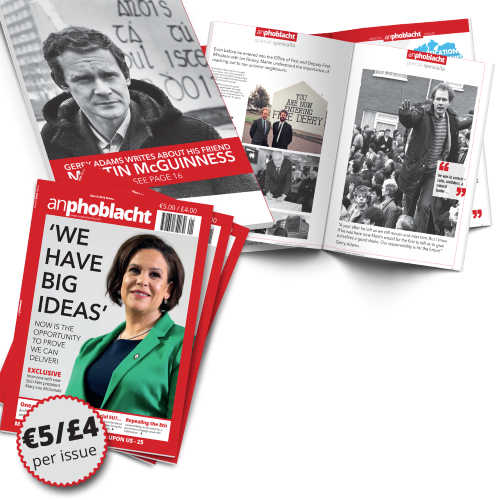 AN PHOBLACHT MAGAZINE:
The first edition of this new magazine will feature a 10 page special on the life and legacy of our leader Martin McGuinness to mark the first anniversary of his untimely passing.
It will include a personal reminiscence by Gerry Adams and contributions from the McGuinness family.
There will also be an exclusive interview with our new Uachtarán Mary Lou McDonald.
test