29 April 2010 Edition
Vote Sinn Féin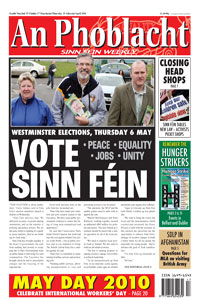 "THIS ELECTION is about leadership," Gerry Adams said at Sinn Féin's election manifesto launch in Belfast on Wednesday.
"Sinn Féin delivers that. We delivered on peace, on power-sharing institutions, and on the transfer of policing and justice powers. We are the party which is fighting for equality, peace and jobs. And we are building for Irish unity."
Sinn Féin has brought equality to the heart of government, he said, from tackling fuel poverty to scrapping the 11-Plus; from keeping water in public hands to delivering for rural communities. The Executive has brought about an end to prescription charges and the freezing of the regional rate.
Good work has been done on the jobs front too, he pointed out.
"Sinn Féin have made jobs retention and jobs creation central to the Executive. We have used public procurement contracts to ensure the hiring of long-term unemployed and apprentices."
He said that Conservative Party leader David Cameron last week laid bare the real agenda behind Tory policy in the North – cuts in public services and in our standard of living. The British Labour Party has a similar agenda, he said.
"Sinn Féin is committed to maintaining frontline services and protecting jobs.
"Slashing public services, allowing unemployment to soar and increasing poverty is not an option.
"The unionists, the SDLP and the smaller parties need to unite with us against the cuts.
"Martin McGuinness and Peter Robinson, working together, secured an additional £800 million for policing and justice. The next British government should be faced with a united opposition by all of the local parties.
"We need to transfer fiscal powers back to Ireland. We also need to build an all-island economy.
"The key to making progress, to making positive change irreversible, is political leadership.
"Tá an cheannaireacht ag Sinn Féin, tá na smaointe cearta againn, na polasaithe cearta agus an straitéis pholaitiúil ceart againn don todhchaí.
"Agus tá foireann ag Sinn Féin nach bhfuil a leithid ag aon pháirtí eile.
"We want to bring the vision, the focus and the determination which created and sustained the Peace Process, to deal with the economy. In this election the electorate has the opportunity to endorse Sinn Féin's strategy for positive change; to build a better future for all our people but especially our young people.  And to advance the goal of Irish reunification.
"Tá Sinn Féin ag déanamh an difir.
"Bí Linn."
ELECTIONS: Civil Rights veteran urges voters to unite behind Sinn Féin
The battle cry from Tyrone: 'We shall overcome'
VETERAN Civil Rights campaigner and well-known human rights lawyer Pat Fahy has called on republicans and nationalists to unite behind Sinn Féin in the Westminster elections across the North but particularly in Fermanagh and South Tyrone.
The Omagh-based solicitor said he is "delighted and extremely proud" to once again be the election agent for Sinn Féin's Pat Doherty in West Tyrone.
"Pat and the Sinn Féin party have an excellent track record of representation and delivery for the people of this area."
"It is vitally important at this time that we give the strongest possible mandate to Sinn Féin as they seek to continue to shift political power back to the island of Ireland.
"It is also essential that we send the clearest of messages in the polling booths, rejecting those politicians whose interest in the cause of a free and united Ireland only surfaces when they are asking for your vote but who at all other times have shown their clear willingness to accept second-class status for the Irish people in the North.We are proud of our Irish identity and nationality and we reject their claim to speak on behalf of the republican people of West Tyrone and elsewhere."
In a clear reference to the SDLP's standing in Fermanagh and South Tyrone, the Civil Rights veteran declared:
"As for their willingness to sacrifice the republican ideal by splitting the vote and thus handing the seat of a nationalist majority to unionism, their actions are beneath contempt. Let our message to them be loud and clear: your day is long gone. Without you, and despite you, in the words of the great slogan of the American and Irish Civil Rights movements, "We shall overcome!"
Also See:  Vote Sinn Féin Editorial