29 April 2010 Edition
Sinn Féin Westminster election 2010 manifesto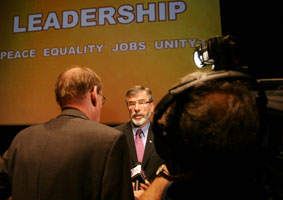 SINN FÉIN launched its Westminster election manifesto this week. This is a summary of the main points. The full manifesto can be seen at
www.sinnfein.ie
REGIONAL DEVELOPMENT
•    Deliver a new Active Travel Strategy which includes key actions to provide alternatives to the private car and include investment in cycling, walking and public transport
•    Introduce 20 new trains into the rail network
•    Continue to overhaul our water and sewerage services and ensure that the best governance and management of these services is secured
•    Introduce a Rapid Transit system in Belfast city, with initial pilot routes including west Belfast connecting to the east of the city
•    Start the construction of the A5 and A8 major roads schemes and on the A6 Derry to Dungiven by-pass
•    Seek to secure City of Derry Airport's long-term future working with Derry City Council and the Executive
AGRICULTURE AND RURAL AFFAIRS
•    A new rural white paper with equality and all-island development as key elements
•    Intensified 'rural-proofing' of all public policies
•    Development of a new Planning Policy Statement 21 that protects the wider rural community
•    Almost £400 million to be invested in fishing and rural communities over the next three years
•    Fight for a fair outcome in the reform of Common Agriculture Policy and Common Fisheries Policy to ensure the single farm payment is maintained and capped at £100,000  and there is more local control over future development of fisheries
•    Bring forward a new Forestry Bill and aim to double forest cover across the Six Counties over the next 50 years
•    The expansion of allotments and development of community farms/gardens
EDUCATION
•    Continue the radical restructuring of education with the twin aims of equality and excellence
•    Extend the entitlement to free school meals for children
•    Continue to cut back on bureaucracy and ensure that more resources are put into frontline services
•    Build more new schools on the basis of area needs
•    Continue working for the harmonisation of the two education systems on the island
•    Continue to oppose fees for full-time students
•    Push for improvements in the function, quality and accessibility of apprenticeships
HEALTH
•    Lobby the newly-formed Public Health Agency to tackle social inequalities earlier and more effectively
•    Implement 'Investing for Health' grounded in the achievement of measurable outcomes and improvements based on an objective assessment of current inequalities and projected needs
•    Implement proposals of the Bamford Review and raise awareness about mental health issues
•    Pursue implementation of an all-Ireland suicide prevention strategy
•    Support the 'card before you leave' system to provide vulnerable patients at Accident and Emergency units with advice, contact numbers and follow up appointment details
•    A new system to provide dedicated perinatal mental health services on an all-Ireland basis, ensuring that pre-natal and post-natal patients can be cared for with their new-borns when this is required
•    Ensure equality in cancer care facilities across the island, particularly in terms of the north-west and urgent delivery on the Health Department's existing commitment to address this need
•    More funding for child cancer care services
•    Qualifying criteria for the winter fuel payment should be expanded to include cancer sufferers
•    Measures to ensure that carers get better and more equitable access to the benefits system.  Sinn Féin believes carer's allowance should be a standalone benefit
•    Effective programmes to address poverty-related patterns of ill-health
•    Prompt and widespread access to effective drug and alcohol treatment services, including community-based services
•    Ensure implementation, as fully as possible, of the report and recommendations of the recently-published Assembly inquiry into obesity
CRIMINAL JUSTICE
•    Continue to be proactive in setting the agenda on policing and delivering fully representative, accountable, routinely unarmed civic policing with the community.
•    Continue to enhance the accountability, transparency and effectiveness of the criminal justice system;
•    Ensure that local policing plans genuinely meet community needs;
•    Continue to challenge both abusive and negligent or unprofessional policing;
•    Work constructively to overcome resistance to change within the PSNI and Gardaí, as well as among elements of the policing oversight structures;
•    Press for the total ending of any use of plastic bullets which are lethal weapons.
•    Politically driven organisations such as  M15 and the Serious and Organised Crime Agency have no place in Ireland and must go.  All criminal investigations must take place under the authority of the policing service.
•    Support efforts to build upon efficient, transparent and accountable restorative justice programmes.
•    Root and branch reform of the Public Prosecution Service (PPS)
TRUTH RECOVERY
•    Continue to campaign for a fully independent, international comprehensive truth recovery process.
•    Work to ensure that all forms of politically-motivated discrimination faced by ex-POWs are ended and made unlawful.
•    Demand a full independent public inquiry into the murder of Belfast solicitor Pat Finucane.
•    Support those families who have still not been granted full inquests, in breach of the British Government's obligations under Article 2 of the ECHR.
AN GHAEILGE
•    Campaign for Acht na Gaeilge in conjunction with Gaeilgeoirí and language activists
•    Campaign for maximum compliance by the British govenment with the European Charter for Regional or Minority Languages
•    Support the continued development of the Irish medium sector in education
•    Promote the use of Gaeilge in signage and place names, street names, personal names and in the names of organisations
•    Work with the Irish Government to further develop the all-Ireland approach to language revival, including strengthening and expanding Foras na Gaeilge and supporting the implementation of the twenty-year plan  
•    Press for an Irish-language radio fund with a focus on developing Irish-language community radio on a wider basis
INTERNATIONAL
•    While no two conflict resolution processes are identical, Sinn Féin has ensured that our experience of the Irish Peace Process is widely available to others
•    Continue to offer our assistance to those trying to secure meaningful conflict resolution precesses in the Middle East and the Basque Country
•    Oppose the ongoing Cuban blockade and campaign for the release of the Cuban Five
•    Continue to call for the immediate halt by Israel of any further building of the Separation Wall as a first step to its ultimate demolition; the ending of settlements and occupation in the West Bank; and the promotion of basic humanitarian conditions and respect for human rights throughout Gaza and the West Bank
•    Continue to raise the issue of the undocumented Irish in the United States, working in tandem with Irish-America, the Irish Government and US legislators 
EQUALITY
•    A strong, inclusive, broad, fully enforceable Bill of Rights for the North, including enforceable economic and social rights, as required under the Good Friday Agreement
•    An all-Ireland Charter of Rights as required under the Good Friday Agreement
•    Strong Gender Equality policies and legislation
•    Support for measures to achieve equality of representation both in political life and in all public appointments
•    Strong legislation and policies to tackle sectarianism, racism, hate crime, homophobia and to tackle discrimination based on disability, age, gender
•    Positive measures to end the pay gap between men and women
•    A properly-resourced Commissioner for Older People to be appointed within this Assembly term
•    Full implementation of recommendations requiring the public sector to promote equality for those with disabilities
•    Support for a public inquiry which would investigate the extent of historical institutional and clerical abuse here. We fully support the right of survivors to seek redress
A STRONGER ECONOMY AND A BETTER QUALITY OF LIFE
•    Job creation and retention will be key to ensuring economic growth.  In our strategy document 'Getting Ireland Back to Work', we set out over 80 various proposals to retain and create jobs
•    Public investment and capital build projects must be underpinned by social objectives to ensure that maximum jobs are created and targeted towards the long-term unemployed and apprenticeships.  Sinn Féin ministers are already leading the way with this innovative approach
•    Public procurement processes can be used to expand the opportunities for small and medium sized, and social, enterprises - something to which Sinn Féin is committed
•    Ireland cannot afford partition.  All-Ireland development and harmonisation should be advanced in a planned way
•    Fiscal sovereignty including the transfer of powers from Westminster to vary taxation and set financial policy including on issues like the minimum wage
•    Bring the Six Counties into the eurozone to create a single island currency
•    The Executive should develop an affirmative policy for the sustainable dispersal of public sector jobs
•    Promoting equality and targeting objective need must become part of the fabric of economic decision-making on a routine basis
•    Sinn Féin believes that an enforceable right to housing should be enshrined in domestic law across the island, as well as in a legally enforceable Bill of Rights for the six counties
•    Sinn Féin wants greater investment in community arts
•    Harmful emissions must be reduced by at least 30% from their 1990 level by the year 2020 and by 80% or greater by 2050.  That requires rates of reduction of at least 3% per annum.  We also believe that an increased focus needs to be placed on zero or low carbon, good quality, well-insulated, energy efficient, affordable housing.  Similarly high standards should apply to all new build, public buildings and other structures
UNITY
•    Amend British Government policy from upholding the union to becoming persuaders for Irish unity
•    Continue to identify steps and measures to promote and assist a successful transition to a united Ireland
•    Secure a referendum on Irish unity to be held simultaneously, North and South
•    Press Irish Government to significantly increase its practical planning for Irish unity
•    Engage with unionists about the type of united Ireland they want to live in
•    Pursue Six County representation in the Oireachtas
•    Campaign internationally to promote Irish unity
•    Practical steps in every elected forum to promote increased all-Ireland integration
•    Systematically build the opportunities for expansion in the all-Ireland Ministerial Council
•    Broaden and expand all-Ireland co-ordination and integration in economic development, service provision and planning
•    Establishment of the All-Ireland Parliamentary and Consultative Civic Fora and completion of the Review of the All-Ireland Implemen-tation bodies with particular consideration of case for additional bodies
An Phoblacht Magazine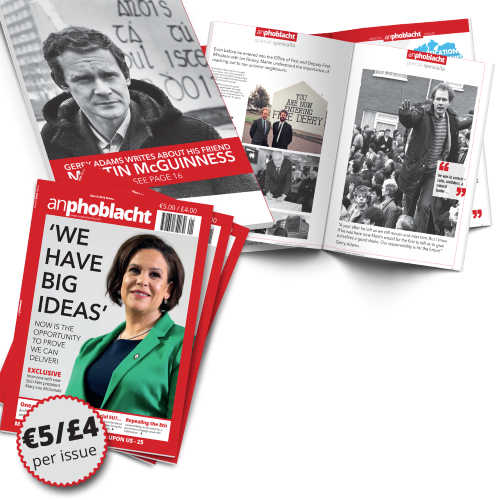 AN PHOBLACHT MAGAZINE:
The first edition of this new magazine will feature a 10 page special on the life and legacy of our leader Martin McGuinness to mark the first anniversary of his untimely passing.
It will include a personal reminiscence by Gerry Adams and contributions from the McGuinness family.
There will also be an exclusive interview with our new Uachtarán Mary Lou McDonald.
test