22 April 2010 Edition
More Catalan communities to vote on independence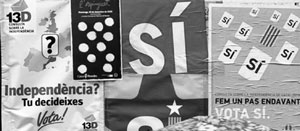 About 200 municipalities in Catalonia will participate on 25 April in an unofficial poll asking their citizens whether they are in favour of Catalan independence from the Spanish state.
The most important cities participating in this wave of referenda are Girona, Lleida and Reus. This is the second wave of such public votes since last September, when a small town near Barcelona, Arenys de Munt, called the first one.
To date, 247 municipalities have held independence referenda, a total of 992,202 inhabitants, and 255,658 voters, and all have been approved.
The leaders of this social mobilisation are trying to force the regional parliament of Catalonia to back an official call for a referendum on independence.