22 April 2010 Edition
PSNI heavy handed tactics in Short Strand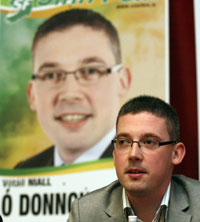 Sinn Féin east Belfast candidate Niall Ó Donnghaile has blasted PSNI actions in the Short Strand last Friday afternoon.
He was commenting after two young residents had their car stopped and were removed from the vehicle and handcuffed on the ground with weapons pointed at them.
 "The community in the Short Strand are rightly angered by the over reaction of the PSNI this afternoon," said Ó Donnghaile. "They claim they were acting on 'intelligence', yet this so-called intelligence proved to be false and two young residents are suffering as a result.
"Understandably, the community in the area are looking at this type of action yet wondering why the PSNI is failing to take similar action in dealing with the real problems of antisocial behaviour affecting our area.
"I have contacted the PSNI this afternoon and will be raising this issue with colleagues on the Policing Board immediately. This unacceptable type of policing will not be tolerated by our community."