22 April 2010 Edition
Border Campaign recalled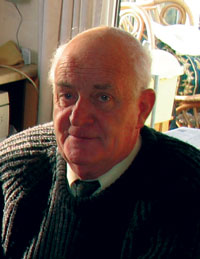 A memorial dedicated to the memory of the Edentubber Martyrs, who lost their lives in an explosion during the IRA's Border Campaign, and "to those in every generation who played their part in the struggle for Irish Freedom" is to be unveiled in Enniscorthy, County Wexford, next month. A degree of begrudgery around the plan has been churned out by sections of the media, in particular from IRA-phobe Kevin Myers. His headline in the Irish Independent of 2 February reads: "Proposing a memorial for IRA terrorists is grotesque." As Myers has worked out, all by himself, these Volunteers were on active service. "For tragic as the Edentubber deaths might have been,",  Myers writes, "the men concerned almost certainly intended to bomb other people."
Labhrás Ó Donnghaile, originally from Whiterock Hill, just outside Wexford Town, is one of the promoters of the monument project. Here he talks to ELLA O'DWYER about the importance of honouring those who played a part in the struggle for Irish freedom. 
Labhrás joined the IRA formally in 1954 at the age of 17, the period just prior to when the Edentubber Martyrs were killed.  Labhrás's father, Peter Donnelly, was involved from the age of nine, having joined joined na Fianna after the 1916 Rising. "He did a couple of short terms in jail and his older brother was also involved," Labhrás tells me.  "My father went out with the Flying Column when he was 15 years of age. He wasn't in action or anything like that. He just came home from school one day, threw his bag in the corner and said he was going off on the Column to join his brother. That would have been in 1923, during the Civil War. My mother would have been very nationally minded but she didn't want her son getting involved," Labhrás smiles. "I was the oldest in the family and I have three sisters. They were in Cumann na mBan for a while in the '50s. All my cousins would be that way inclined too."
So that's where you got your republicanism, I suggest. "Sure I couldn't escape it."

 "I was 17 when I joined the IRA. I remember it because it was the week before the All-Ireland. There was a unit in Wexford but they were just having meetings; my father and some of his friends. I remember my father being at a meeting in a pub.  I was with him. It didn't look like a meeting to me, just people sitting talking. I was just a child but I remember it because again it was just after the All-Ireland in 1951 and Wexford didn't get to the All Ireland that often. I think we hadn't reached an All-Ireland since 1910 or thereabouts. It was your county, Tipperary, that beat us!"
Labhrás was also in Conradh na Gaeilge and An Réalt - the Irish version of The Legion of Mary. "We wouldn't be doing anything very religious but we'd have youth clubs teaching Irish dancing and organising tours. Anything to do with culture. I was secretary for Comhaltas Ceoltóirí Éireann for a while."
Labhrás was involved in the Border Campaign.  "We had around 20 people on and off in the unit in Wexford Town. There was also a unit in Enniscorthy. We were doing arms training but could do everything but what the guns were meant for – shoot  – because we didn't have the ammunition.
"The unit fell apart for a time because of emigration. Everybody was going away to look for work. But it was always there, it didn't cease.
"When the campaign began on the border in December 1956 we weren't told about it in Wexford Town. We didn't get the information. Enniscorthy people did take part in the Border Campaign in 1956.
"Paddy Parle had come home from England around that period and Liam McGarry had returned to Wexford. Paddy Parle said he was going to do his bit for Ireland along with Liam and a few others. So they got the unit going again and they asked for Volunteers. So we were preparing then, though we didn't know when we were going to be called up. We trained away, mostly on route marches, very, very long marches on country roads in the dark. It wasn't great military training but that's what we had. We'd also go down the country from time to time to a firing range. You might get firing one or two rounds.
"Paddy, who was a few years older than me, was eventually killed in Edentubber. In September 1957 we eventually got the call. I can't remember the exact date but again it was after the All Ireland. My life is based on All Irelands. I could hang my hat on All Irelands."
Labhrás was involved in an attack on Crossmaglen barracks on the night of the Edentubber explosion. "It was part of a three-pronged diversionary tactic to draw the enemy into the area and away from where other operations were planned. The Border Campaign should probably have been called off around then because it was petering out.  We were more sacrificial republicans than anything else."
Did he think the Border Campaign was a waste, in view of that? "I don't think it was a waste at all", Labhrás, replies. "I always look at the Border Campaign or any other campaign, as a continuation. We were a continuation of the people who fought in 1798. It never stopped. As far as I was concerned, being a republican, there was always work to be done. In my father's case, when the ceasefire during the Civil War occurred it didn't stop people working. They never gave up, never gave up hope. And I never stopped working either, in the GAA and the Comhaltas. I considered the GAA, the Comhaltas and the IRA all the one thing. I'd never divorce one from the other."
I ask Labhrás if there's an open invitation to the unveiling in Enniscorthy on 2 May. "Oh yes", he says. "I've sent invitations all over the place."  Remembering and honouring the past is important for Labhrás. "Myself and my wife Sorcha make memorial cards and we published a book on Irish placenames which has been reprinted twice.  I think there should be a monument in every town in Ireland. Anyone who tried to play a part should be honoured and there's so many ways you can play your part – through culture, the GAA or the language." 
Ó Donnghaile believes the struggle doesn't belong to anyone or any era but '"to those in every generation who played their part in the struggle for Irish Freedom", through armed struggle, politics, culture, the GAA or the Irish language.
There are many sites of struggle, none of which Kevin Myers or his ilk seem to have been willing to navigate. 

An Phoblacht Magazine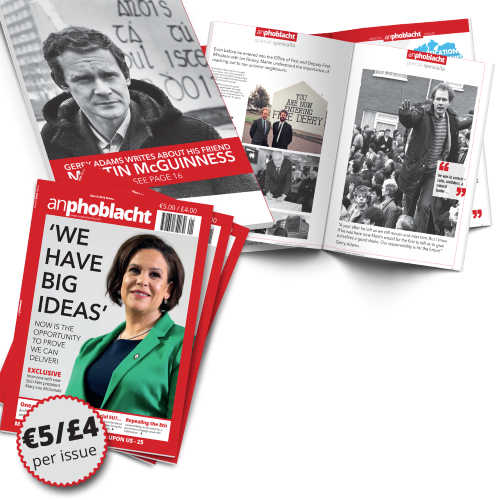 AN PHOBLACHT MAGAZINE:
The first edition of this new magazine will feature a 10 page special on the life and legacy of our leader Martin McGuinness to mark the first anniversary of his untimely passing.
It will include a personal reminiscence by Gerry Adams and contributions from the McGuinness family.
There will also be an exclusive interview with our new Uachtarán Mary Lou McDonald.
test