22 April 2010 Edition
Sinn President Gerry Adams addresses Omagh town hall meeting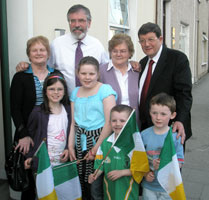 'This is Sinn Féin country'
Speaking at the latest of Sinn Féin's town hall meetings in the Strule Arts Centre in Omagh last week, Sinn Féin President Gerry Adams spoke about the importance of Tyrone in the struggle for Irish freedom and the reasons why voters should choose Sinn Féin on 6 May.

"Tyrone has been at the heart of the Irish struggle for freedom for centuries.
 From the O'Neill's in the 16th century to the politically motivated IRA Volunteers and Sinn Féin activists of today.
And even when Tyrone people have been forced to leave Ireland to find work or because of persecution or repression they continue to work for Irish freedom.
The 1916 Rising was largely funded by Joe McGarrity, a son of Carrickmore who emigrated to Philadelphia and others like Dr Patrick McCartan, also from Carrickmore, and also the great poet a Methodist and an Irish Republican Alice Milligan from Omagh played their part too
And today other sons and daughters of Tyrone who I have met in the USA and Canada and elsewhere around the world continue that work.
Since partition successive generations of Tyrone men and women have taken up the struggle to achieve Irish reunification.
In the 1950s Tyrone elected Tom Mitchell and Phil Clarke as Sinn Féin MPs.
Recently, Danny Donnelly, from Omagh who escaped from Crumlin Road Prison in 1960 – has provided his personal account of struggle at that time at two very successful book launches in this town this very week.
The courage and determination of recent generations of republican activists to free Ireland is evidenced in the Roll of Honour and the long list of IRA Volunteers and Sinn Féin activists who gave their lives in the cause of freedom.
Each of them was an extraordinary human being who in dangerous and difficult times demonstrated enormous courage in standing up for the rights of the people of this island.
They were heroes and heroines who in unique circumstances found the inner strength, determination and courage to stand against injustice and oppression and to demand Irish freedom.
They were our friends, our comrades, our neighbours, our family members.
And they were determined to bring about change.
 We remember them all with pride and respect.
And today Tyrone is still in the vanguard of the republican struggle to end British rule and achieve Irish reunification.
This is Sinn Féin Country.
Pat Doherty represents west Tyrone; Martin McGuinness East Tyrone and Michelle Gildernew South Tyrone. 
This constituency of West Tyrone is also represented at Assembly level by Barry McElduff and Claire McGill who work closely with the team.
On Omagh District Council Sinn Féin has 10 out of 21 Cllrs.
On Strabane District Council  Sinn Féin holds 7 of the 16 seats.
That is a remarkable fact given the determined efforts over many decades by the British state and our political opponents to kill, silence, exclude, criminalise, censor and ban this party.
Sinn Féin is very much weaved into the fabric of life and community in West Tyrone – whether it's sporting and cultural, such as GAA and comhaltas, or in the voluntary and community sector.
We are an integral part of Tyrone.
And our goal remains that for which so many of our friends gave their lives; to end centuries of British involvement in Ireland and to construct a republic in which citizens will be treated fairly and equitably.
That goal is not yet achieved.
But in recent years we have made significant progress toward achieving it.
In last year's European election Sinn Féin emerged as the largest party in the North. We are the largest nationalist party in this part of the island and we have representation in all of the major political institutions, including the Assembly, the Dáil, the European Parliament, Udaras na Gaeltachta, and in Council Chambers.
This success was achieved as a result of hard work, great personal sacrifice, including the deaths of comrades, by strategising and planning, and by refusing to acquiesce to intimidation or discrimination or the brutality of the state or the death squads.
All of this is no mean achievement for a party which was banned and censored.
It is a measure of the increasing confidence a growing number of people in the North, including in Upper Bann, have in Sinn Féin to deliver on the peace process and in government.
On Monday we provided more evidence of our tenacity and our success.
The transfer of powers on policing and justice and the appointment by the Assembly of a Minister of Justice were significant steps forward that we were told would never happen.
Some unionists said it couldn't happen in a political lifetime.
The SDLP threw the towel in nine years ago when it accepted the Mandelson Policing legislation, said there would be no more new legislation, and joined the Policing Board.
This party – Sinn Féin said No. It wasn't good enough.
We kept negotiating, and demanding more and better legislation.
And over the following years, Sinn Féin delivered new policing and criminal justice legislation – including overturning the ban on former political prisoners being on policing boards; gaining increased powers for the Police Ombudsman; gaining increased powers for the Policing Board; cementing community policing as a core function of the PSNI; and securing a new judicial composition more reflective of this society.
Taken with the agreement at Hillsborough several months ago, all of this is evidence of further important progress as a result of the peace process.
So, when people vote for Sinn Féin they know what they are getting. They know we are their guarantors. That we will defend the Peace Process. That we will stand up for their rights.
That is why we took the initiative we did earlier this week in attempting to maximise nationalist representation in respect of Fermanagh South Tyrone and South Belfast.
By rejecting this proposal the SDLP leader failed her first leadership test.
We made the offer we did because people on the doorsteps are demanding it.
The decision of the SDLP leader not to meet, refusing to even take a phone call, to discuss this issue has caused widespread dismay and anger, particularly in South Belfast and Fermanagh South Tyrone.
The position from the Social Democrats is clear. They would prefer a unionist Tory representing a nationalist constituency than a republican woman and government Minister.
At a time when the political centre of gravity is increasingly and rightly moving onto the island of Ireland and into local and accountable institutions, other parties are vying with each other to take seats in a Parliament in London.
They are exaggerating their importance, their influence, their attendance and the importance of Westminster in an attempt to bolster their election prospects.
The SDLP claim that a vote for them is a vote for effective representation in that institution. This is a deception.
Did you know that the SDLP MPs are among the worst attenders of the 646 MPs at Westminster.
How effective could any elected representative be whose voting attendance record for last year was 5%?
That's how often Alasdair McDonnell was at Westminster representing his constituents!
And Mark Durkan and Eddie McGrady are little better.
So, the nationalist electorate has a choice between a party that takes an Oath of Allegiance to the British Queen; takes the salary at Westminster but doesn't turn up to do the work on behalf of their constituents.
Or the Sinn Féin party which refuses to take the Oath; is proud to be an Irish republican party; is engaged in active abstentionism and provides top quality constituency services and representation.
This election is about the future. People out there are worried about the economy, about jobs, about housing issues.
Sinn Féin is seeking a renewed mandate to pursue investment in public services, in education, in infrastructure and in rural communities.
Sinn Féin wants to continue our work in providing for the elderly, in housing provision and in environmental improvements and much more.
Sinn Féin is not interested in joining any gravy train in any political institution.
On the contrary Sinn Féin representatives don't draw personal expenses from the public purse; we are not paid a Westminster salary and all of our full time activists draw the same salary, the average industrial wage.
Politics is about public service and the empowerment of citizens.
Sinn Féin is the party with the clearest track record of standing up for the rights and entitlements of ordinary people.
We will always put the interests of the community first.
We have brought equality to the heart of government here and we want to see equality at the heart of our society.
The process of political, social, economic and constitutional change that we have driven forward is unstoppable.
It can be delayed but it cannot be stopped for as long as citizens cast their votes wisely, and for capable and committed strategic leadership.
When people vote for Sinn Féin they are voting for a party that is focused on ensuring greater investment in public services, including housing, health, education, infrastructure and in rural communities.
Sinn Féin's mantra is equality, equality, equality.
The benefits for everyone of Sinn Féin's equality agenda in helping to drive an anti-poverty campaign are obvious. 
This includes tackling fuel poverty; it means free travel for the over 60s; the ending of prescription charges; and the freezing of the regional rate.
Equality in education means an end to punitive child testing.
Sinn Féin Ministers have introduced classroom assistants in every P1 and P2 class.  We have invested in schools, in jobs, in infrastructure.
Our commitment is to ensure that every school is a good school and that every child has full equality of opportunity.
We have staved off water charges, and brought forward funding to tackle rural poverty and social exclusion.
So, this election is about leadership. It is about peace. It is about equality. It is about jobs and it is about unity.
It is about which party can deliver for this society going into the future.
It is about who people want as their political leaders.
And there is a clear choice.
Sinn Féin provides experienced political leadership that is unmatched and which has been tested through years of political struggle, through successful negotiations and through providing a positive way forward for this country and its people.
We are also engaging with unionists on this issue at civic and community, as well as political level, and on social and economic, on bread and butter issues, as well as on the constitutional question.
Our vision for a united Ireland is unique amongst the parties in this election. Others, be they Tory, nationalist or post-nationalist are content to be bit players in the corrupt politics of Westminster.
Republican ambitions are much greater than that. So are the ambitions of citizens out there.
So, this election will be about Leadership.
And about the future.
A future free of British government involvement in any part of Ireland.
A new Future – a new Ireland – based on equality and respect and fairness."
Gerry Adams swamped by party activists and well wishers during his visit to Omagh on Friday 
Papers lodged
Sinn Féin candidates for Fermanagh South Tyrone and West Tyrone, Michelle Gildernew and Pat Doherty on Friday handed in their nomination papers for the upcoming Westminster election. 
Speaking outside the electoral office in Omagh after submitting her forms, Michelle Gildernew said:  "This election will be fought and won on the doorsteps of this constituency. We plan to knock on every door and engage with every voter between now and the election. We will stand on our record of delivery and representation for all the people of Fermanagh South Tyrone over the last number of years. We will be asking those voters who do not normally vote for Sinn Féin to lend us their vote in this election in order to stop a Unionist Tory representing the Nationalist constituency of Fermanagh South Tyrone.   "I am confident of retaining this seat on behalf of Sinn Féin and the people of Fermanagh South Tyrone, and if re-elected, I will continue to work hard for all the people of this constituency.  
"Much has been made of Sinn Féin's policy of abstention in Westminster by our political opponents, but we are very proud of our refusal to take an oath of allegiance to a British queen. More and more powers are being transferred from Britain to Ireland and Sinn Féin will continue to work to remove further powers out of British hands and into the hands of locally elected and accountable public representatives."
Michelle Gildernew with her husband Jimmy and their daughter Aoise outside the Omagh Electoral Office