22 April 2010 Edition
Adams attacks unionist parties over Bill of Rights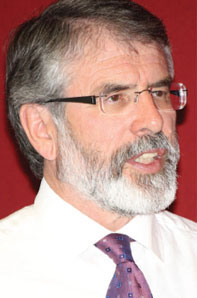 Sinn Féin President Gerry Adams MP has said that unionist opposition to a Bill of Rights is 'a symptom of a political leadership which is out of touch with many within their own community'. "Working class unionist families, the working poor and other disadvantaged sections of unionism have been very badly let down by the main unionist parties," he said.
"The unionist parties' opposition to equality is part of this and especially at this times their opposition to a Bill of Rights.
"During the Town Hall meetings which I and Martin McGuinness and Bairbre de Brún are conducting, there have been many examples of this, particularly around the rights of children with disabilities and the totally unfair burden placed on their families because there is an inadequate legal basis for these children's rights and the rights of their families.
"If you are disabled or have a disabled family member a Bill of Rights would protect your rights and their rights to access to proper services. The effects people from a unionist background as much as anyone else. Yet the unionist parties are against it.
"If you are homeless or living in bad housing conditions – a Bill of Rights would guarantee you protection under the law.
"If you are sick or out of work a Bill of Rights would be there to ensure your rights and entitlements.
"Unfortunately the unionist parties and the DUP in particular, with the acquiescence of the NIO, have set their faces against such an approach.
"I believe that the unionist political leaderships are out of touch with their own community on this issue. They are making a mistake in trying to sectarianise the issue of rights that would make a real and positive impact on the lives of those in greatest need.  
A Bill of Rights should set the floor, and not the ceiling for guaranteeing rights in our society for generations to come."