22 April 2010 Edition
Westminster Election profiles
BY ROBBIE SMYTH
East Derry
    vote    % of poll
1998 Assembly    3,860    9.8%
2001 Westminster    6,221    15.6%
2003 Assembly    6,121    17.9%
2005 Westminster    5,709    16.1%
2007 Assembly    6,797    20.4%

The Sinn Féin vote in East Derry has more than doubled since 1998 and first time Westminster candidate Cathal Ó hOisín takes on the seat for the party this time out.
Ó hOisín has represented Dungiven on Limavady Borough Council since 2005 and is currently Mayor of the Borough.
Cathal has gained great respect from all quarters for his commitment to serving all members of the community and has endeavoured to see local democracy strengthened and brought closer to people in a meaningful, effective and efficient way. He also sits on the Limavady District Policing Partnership.
Cathal is a member of the local Kevin Lynch hurling club and also plays a leading role in community life in the local area, working with the various community regeneration, community development and Féile Festival committees.
North Down
    vote    % of poll
1998 Assembly    —    —
2001 Westminster    313    0.8%
2003 Assembly    264    0.9%
2005 Westminster    205    0.6%
2007 Assembly    390    1.3%

The DUP topped the Assembly poll here in 2007 but the UUP won its only Westminster seat here in 2005 with Sylvia Hermon. With Hermon now standing as an independent, it looks like the seat could feasibly fall to the DUP for the first time in more than two decades of challenges, but this constituency, having the highest unionist majority in the Six Counties, can always throw up surprises.
Vincent Parker is the Sinn Féin candidate here and it is his first Westminster election. Vincent is a ministerial and Assembly policy advisor to Sinn Féin, providing advice on a range of strategic political and public policy issues. He is director of the party's Equality and Human Rights Department and managed the party's delegation during the recent Bill of Rights Forum.
In December 2009, Vincent was appointed to the Board of InterTradeIreland, the all-Ireland Trade and Business body. He is currently vice-chair of South Belfast District Policing Partnership, chairperson of Finaghy Crossroads Group and a Board member of Féile an Phobail.
South Down
    vote    % of poll
1998 Assembly    7,771    15.1%
2001 Westminster    10,278    19.7%
2003 Assembly    12,007    26.5%
2005 Westminster    12,417    25.8%
2007 Assembly    14,134    30.7%
Sinn Féin almost pulled level with the SDLP in the 2007 Assembly elections in another constituency where the vote has doubled in the last decade, and with Eddie McGrady standing down as the SDLP MP, there will be the strongest challenge yet from Sinn Féin for the seat.
Caitríona Ruane has been an Assembly member for Sinn Féin here since 2003. In 2007, Ruane was appointed Minister of Education in the new Executive and immediately put in place a thorough and comprehensive agenda of change to modernise the flawed and divided Six-County education system. Caitríona has put equality for all children at the heart of education policy.
Ruane has a long record of work on equality and human rights issues. She worked from 1983-87 for an international aid foundation in impoverished communities in Central America and was also involved with Irish international aid agency, Trócaire, before co-founding the Centre for Research and Documentation, which studied conflict resolution in South Africa and Central America. Caitríona hosted Nobel Peace Prize winners Rigoberta Menchu from Guatemala and Jose Ramos Horta from East Timor on a visit to Ireland.
In 1994 Caitríona was an international observer in the first free and fair elections in South Africa.
Caitríona has lobbied the UN and the EU on human rights violations by the British government in the north of Ireland and helped to organise independent inquiries into the deaths of Fergal Caraher – shot dead by the British Army in South Armagh – and Patrick Shanaghan – a victim of collusion between loyalists and British state forces.
From 1997-2001 Caitríona was the Director of Féile an Phobail and was a founder of the St Patrick's Day Parade in Belfast, when she took unionist councillors in Belfast City Hall to court on grounds of funding discrimination.
In 2000 President Mary McAleese presented Caitríona with the Aisling Person of the Year Award.
Fermanagh and South Tyrone
    vote    % of poll
1998 Assembly    13,714    26.9%
2001 Westminster    17,739    34.1%
2003 Assembly    15,901    34.5%
2005 Westminster    18,638    38.2%
2007 Assembly    16,833    36.3%

Sinn Féin wrested this seat away from Ulster unionism in 2001 and won again in 2005, growing the Sinn Féin vote substantially to the point where in 2007 Sinn Féin had 36.3% of the first preferences compared to 13.96% for the SDLP.
It clearly put the party in position as the leader of the nationalist community here, yet with the DUP and UUP agreeing a joint independent candidate in 2010 the SDLP have refused to countenance an electoral pact, even though Sinn Féin took the unilateral step of stepping down in South Belfast to allow Alasdair McDonnell consolidate the nationalist vote there.
Michelle Gildernew first stood for Sinn Féin in the 1996 Forum elections. In 1997 she was appointed Sinn Féin representative to London, and was part of the first Sinn Féin delegation to Downing Street.
Michelle was elected MP for Fermanagh/South Tyrone in 2001 and has been an Assembly member since 1998. She is currently Minister for Agriculture and Rural Development in the Assembly executive.
Michelle has tackled inequality and disadvantage in several areas of her ministerial portfolio. The Sinn Féin MP has gained great respect from all quarters for her work as a Minister and a recent Belfast Telegraph poll, found that Michelle and her party colleague Martin McGuinness were judged to be the two best performing ministers in the Executive.
Michelle has played a key role on the Sinn Féin negotiating teams leading up to the Good Friday Agreement, the St Andrew's Agreement and the recent Hillsborough Agreement. Michelle has a particular interest in the Irish culture and is also a member of Aghaloo GAA club in Tyrone.
Foyle    
    vote    % of poll
1998 Assembly    12,696    26.0%
2001 Westminster    12,988    26.6%
2003 Assembly    13,214    32.4%
2005 Westminster    15,162    33.2%
2007 Assembly    12,649    30.8%
The Sinn Féin vote in Foyle has grown despite being the constituency of the last two SDLP leaders and in 2010 the local party is aiming to close the gap further on the SDLP and challenge for the Westminster seat here.
Martina Anderson is from the Bogside and has been involved with the republican struggle for over 30 years. Anderson has held several senior positions in Sinn Féin, including serving on the Ard Chomhairle as all-Ireland Political Co-ordinator and as Director of Unionist Engagement, as part of the Party's Outreach Programme.
Martina was elected to the Assembly for Foyle in 2007 and has been a strong voice for the disadvantaged across society as the party spokesperson on Equality and Human Rights.
Martina has also been a champion for regeneration and Building Derry's Future. This was demonstrated as a part of her Stand up for Derry campaign, when she exposed attempts to place the Project Kelvin tele-house in Coleraine, sparking a campaign that forced Arlene Foster to rescind that decision and return the project to Derry. She is also a tireless campaigner for the upgrading of Magee Campus, including the delivery of a Medical Faculty and expedited delivery of the ILEX regeneration process.
Following Sinn Féin's decision to participate in policing structures, Martina was appointed as a member of the Policing Board.
Lagan Valley
    vote    % of poll
1998 Assembly    2,000    4.3%
2001 Westminster    2,725    5.9%
2003 Assembly    3,242    7.9%
2005 Westminster    3,197    7.5%
2007 Assembly    5,098    12.2%


In 2007 Paul Butler won Sinn Féin's first seat in this constituency, as the party's vote share grew substantially.
Paul has a long record of battling discrimination against nationalists in the Lagan Valley area and has consistently highlighted and campaigned against the inequalities which nationalists face in this majority unionist area. Paul has also been involved in numerous social and economic campaigns on behalf of the people of Lagan Valley.
He has been a member of Lisburn City Council since 1997, where, as leader of the Sinn Féin group, he has exposed unionist bigotry on countless occasions.
Butler has also been physically attacked by loyalists in Stoneyford, received a number of death threats and has had his election poster burnt on top of a loyalist 11th night bonfire. None of this has deterred this republican campaigner, who continues to work tirelessly on behalf of all constituents in Lagan Valley.
Martina Anderson, Michelle Gildernew, Gerry Adams, Caitríona Ruane and Mary Lou McDonald 
An Phoblacht Magazine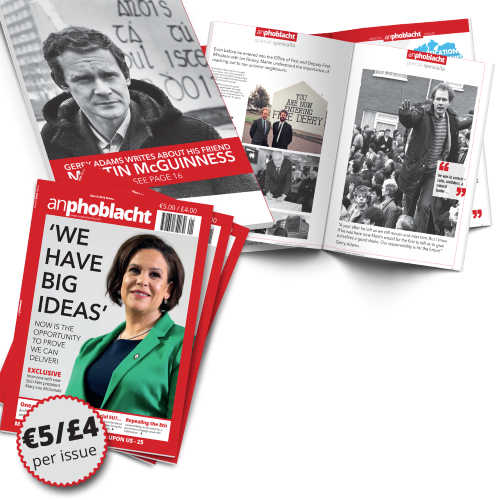 AN PHOBLACHT MAGAZINE:
The first edition of this new magazine will feature a 10 page special on the life and legacy of our leader Martin McGuinness to mark the first anniversary of his untimely passing.
It will include a personal reminiscence by Gerry Adams and contributions from the McGuinness family.
There will also be an exclusive interview with our new Uachtarán Mary Lou McDonald.
test