1 April 2010 Edition
Easter Lily launched in Omagh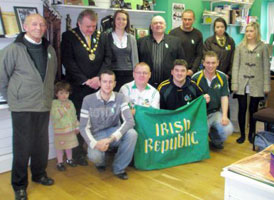 Preparations for Easter commemorations continued apace in Tyrone last week when the Vice Chair of Omagh District Council, Sean Clarke, hosted a local launch of the Easter Lily, joined by Sinn Féin members from across the district.
Encouraging people to wear the Easter Lily, Councillor Clarke said: "The first Easter Lily badge was designed in 1925 by the republican women's organisation, Cumann na mBan. Today, they are still worn by republicans throughout Ireland to remember our patriot dead.
"This includes the patriot dead of Easter week 1916 and the 56 IRA Volunteers and 3 Sinn Féin activists from Tyrone who lost their lives in the recent phase of the conflict.
"Easter is a time for republicans to reflect and rededicate ourselves to the cause of Irish freedom. This weekend, the events of Easter 1916 will be remembered throughout Tyrone and further afield and I am calling on everyone to wear the Easter lily with pride."