1 April 2010 Edition
The Haitian Model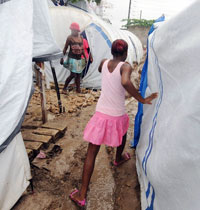 BY DARA Mac NEILL

If you required a metaphor to explain the devastation let loose on Haiti in the aftermath of the 12 January earthquake, you need look no further than the story of the medical school that was opened at the University of Tabarre, Port-au-Prince, in December 2003. The school was the first public facility of its kind in Haiti, set up to train medical personnel and provide care free of charge to the citizens of the capital.  
At the time the school was opened Haiti had the worst doctor-patient ratio in the entire world – one doctor to 10,000 people in urban areas and one to 20,000 in the countryside. In France, regarded as among the best in the EU, the ratio hovers around 3.37 per 1,000. The U.S. figure is somewhat similar, but as the recent healthcare debate has shown, access is not free and depends on ability to pay.  
Cuba, a near neighbour of Haiti, enjoys the best ratio in the world – at one doctor for every 200 people. And Cuban citizens receive their care completely free of charge. Maybe Minister Harney might consider Havana for her next fact-finding excursion.  
'Health care for all, without exclusion' was the motto adopted by the Tabarre Medical School and it was regarded as perhaps the single greatest achievement of then President Bertrand Aristide's administration. It was jointly supported by Haiti, Taiwan and Cuba.  When the public hospital attached to the school opened its doors in February 2004, it was the first time that thousands of its patients had ever seen a doctor, or received any form of medical care.  
It was the only medical school in Haiti that provided free education to its students and recruited prospective doctors from poor families. Students received free room and board and in return agreed to serve several years in remote and poorer regions of Haiti.  
When it opened there were less than 2,000 Haitian doctors in the country. The school aimed to train over 600 doctors in its first 10 years of operation. It represented a remarkable step forward for the poorest country in the western hemisphere.  It represented, in some rough shape, a nascent public health system for Haiti and the first building blocks of a genuine social infrastructure for the country.  But it lasted just two weeks.
Fourteen days after it began treating people, President Aristide was forcibly removed from office in a coup d'état. Shortly afterwards, the school was closed down at gunpoint and occupied by U.S. Marines and the UN force sent to 'stabilise' Haiti.  
No patient was ever seen again at the Tabarre Medical School and its 247 students were never able to complete their studies in Haiti. They did so in Cuba, at that country's Latin American Medical School (ELAM) in Cuba, which has trained thousands of doctors in the developing world.  
Incidentally, when the 12 January earthquake hit, there were approximately 400 Cuban doctors working in the country, along with 573 Haitian doctors who had been trained in Cuba.  
The story of the Tabarre Medical School is but one small example of how an impoverished nation can rebuild its social fabric – one thread at a time, in the case of Haiti – and of how global powers have rent it apart.  Its closure and the frustration of Aristide's programme of social reform meant Haiti was left utterly defenceless and incapable of helping itself when the earthquake struck. It guaranteed that a natural disaster would be transformed into a human catastrophe.  
Today, the international response to the earthquake is being held up as something of a model, for the international community – at least according to the U.S. Ambassador to Haiti: "...I believe that this will be something that people will be able to look back on in the future as a model....", the Ambassador confided in an official briefing.    
Two months after the Haitian earthquake, this is what a model looks like: Over 1 million people remain homeless, with the UN reporting that 1.2 million people now live in 'spontaneous settlements'  – sprawling camps without services or shelter. Food distribution is sporadic, as is medical care.    
Some of these 'spontaneous settlements' hold as many as 300,000 people. They have been set up on golf courses, football pitches, hillsides and in what once were streets.    
Less than one in five of these people have received tents or any other form of protective sheeting, which means 80 percent have no protection from the elements. The Haitian interior minister has been quoted as saying that: "We don't have the $60 million to buy 100,000 tents."
Yet, there are some 900 aid agencies in the country, a large U.S. military force, UN troops and many millions of dollars being spent.    
Haiti is now moving into the rainy season, which will gradually intensify in the weeks and months ahead, building to the Hurricane season in June. Even in a good year, the rainy season in Haiti is deadly, regularly killing thousands in floods and mudslides.    
It is difficult to comprehend the possible devastation that could be caused this year, in this 'model' country.
Food Queues 
An Phoblacht Magazine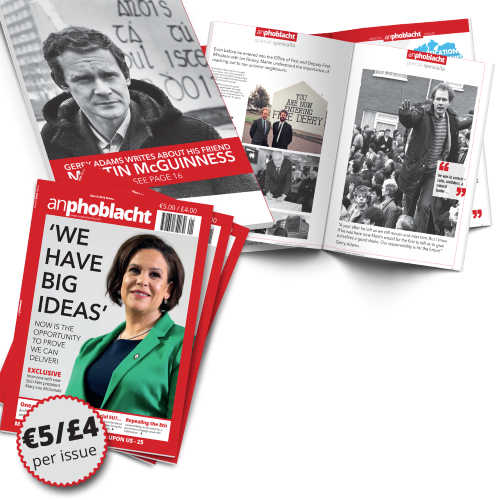 AN PHOBLACHT MAGAZINE:
The first edition of this new magazine will feature a 10 page special on the life and legacy of our leader Martin McGuinness to mark the first anniversary of his untimely passing.
It will include a personal reminiscence by Gerry Adams and contributions from the McGuinness family.
There will also be an exclusive interview with our new Uachtarán Mary Lou McDonald.
test