1 April 2010 Edition
Eviction by absentee landlord resisted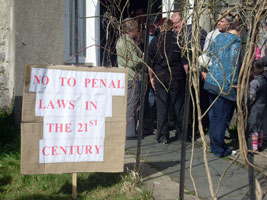 Over 200 people turned up at a house in the village of Gowran, County Kilkenny, on Wednesday 24 March last to support the occupants, who are threatened with eviction by an absentee English landlord. The family have made several attempts to buy the house from Ironclad Limited, which represents the Lord Annaly estate, but Clare Macdonough and her family have been unable to do so.
The family have been told that unless they sign a new lease, making them liable for extensive repairs, costing hundreds of thousands of euros, they will be forced out of their home by the company. They want to buy the freehold and carry out the repairs over time, as owners. The family have lived in the house for 34 years.
Despite numerous attempts, Ironclad have refused to comment through their solicitors, Malcomson Law, Carlow, who issued the family with the notice to quit, which came into effect on Wednesday 24 March.
Speaking in support of Clare Macdonough and her family, Councillor Kathleen Funchion expressed her disgust at the attempt to force the family from their home.
"This is a throwback to penal times and the forced eviction of people from their homes by the forces of the Crown. Today we again see English landlords attempting to force people from their homes. The time has long passed where Irish people will stand for this.
"A sharp message was sent to Ironclad and the Annaly estate today when so many people turned out to support the family in their rightful claim to own their own home.  The Annaly Estate is a relic from the past and we as Irish people demand the return of all land and buildings still under English control in Ireland. No longer will people stand idly by while their neighbours are hounded out of their homes by either absentee landlords or indeed bankers, whose greed has landed us all in it."