1 April 2010 Edition
Sold down the river
The Live Register figures for March were released on Wednesday, revealing an increase in the number of people signing on just a day after the government put the state in hock to the tune of tens of billions to bail out the banks.
The government is spending all of its energy on the banking crisis but scant effort is being put into getting the rest of the economy back on track or tackling unemployment, which now stands at 433,000.
The Fianna Fáil/Green government has committed to €21.8 billion in recapitalisation for the banks, with Anglo almost certain to require a further €10 billion. This is on top of the €50 billion Lenihan has committed to NAMA.
That's a mind-boggling €80 billion in total, a noose around the neck of taxpayers for decades to come, and it is particularly galling given that there has been no corresponding sense of urgency to create jobs or rescue mortgage holders who face massive repayments as a result of the property bubble created by Fianna Fáil and their cronies.
This money is being thrown into a banking black hole when it could be put to much more productive use. It could finance a youth jobs fund to create more than 20,000 jobs, reverse the pay cuts for public sector workers on low and average incomes, reverse the cuts to social welfare, create 10,000 new Community Employment places and most importantly, secure a future in Ireland for the thousands of people who are being forced to emigrate.
Just to rub salt in the wound, beleaguered mortgage holders were informed yesterday that AIB, pocketing its €7.4 billion bailout, is hiking its rates by 0.5%. No doubt the rest of them will speedily follow suit with their own rate rises.
While a whole generation of young, educated and skilled people are leaving our shores and families face debilitating mortgage repayments and even eviction, the government are only intent on securing the futures of their friends in the banks.
The Ireland they have created is not an equal or fair one. They have sold this state down the river for their developer cronies and banking buddies.

An Phoblacht Magazine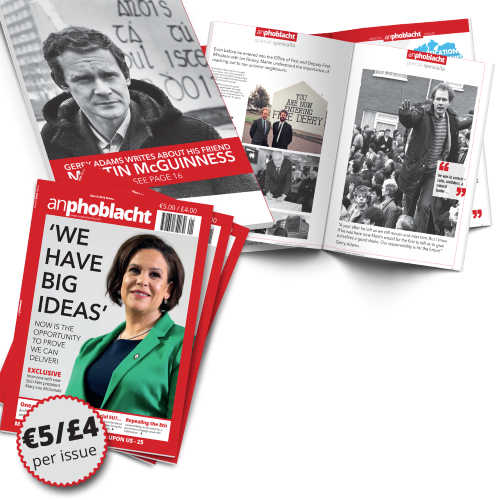 AN PHOBLACHT MAGAZINE:
The first edition of this new magazine will feature a 10 page special on the life and legacy of our leader Martin McGuinness to mark the first anniversary of his untimely passing.
It will include a personal reminiscence by Gerry Adams and contributions from the McGuinness family.
There will also be an exclusive interview with our new Uachtarán Mary Lou McDonald.
test