25 March 2010 Edition
Without a passport or a paddle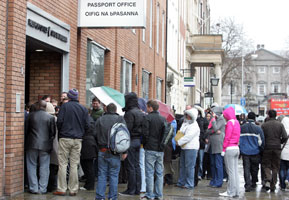 BY JOANNE SPAIN
There was shock and horror across Ireland last week as it became apparent the 26-County government's strategy for economic recovery was being stymied because civil servants are refusing to help people emigrate. Hundreds of jobless people, with their PhDs in their backpockets, lined up alongside hopeful holidaymakers outside the passport office on Molesworth Street in Dublin hoping desperately that they would be one of the lucky ones to escape.
Mary Coughlan, the then Minister for Enterprise, Trade in young people and Emigration, joined the protesting passport seekers and called for the workers inside to lay down their rights. "Let these people out," came her rallying cry. "Don't deny other countries the skills that we have paid for these people to acquire. It is unpatriotic to wreck the government's plan to save the economy through emigration!"
RTÉ pushed all other irrelevant news items, on U.S. health care reform, holy letters and hospital closures to the bottom of the agenda and dispatched all its camera crews to Molesworth Street to capture the chaotic scenes. Heartwrenching interviews were conducted with young men who had been queuing since 9am that morning to get their passports so they could join the Irish rugby team on tour.
"I told them in there I would chain myself to a chair until they brought me my passport out of this dump," one man informed a concerned reporter. "The cheek of those people," said another. "I pay their wages. Or I did, until I lost my job. I believe the government – it's the fault of the bloated and overpaid civil servants that I lost it!" One independent news reporter from some unpronouncable paper – the publocked or something – ventured a question. "Do you know that some of the people who work in there are almost eligible for social welfare support now that their wages have been cut repeatedly?" Miniser Coughlan, true to form, had no answers.
The army brought soup and sandwiches. The Legion of Mary sang a hymn to rouse the spirits and a letter of support was read out from Irish builders in the Olympic Village in London. 'Dear lads', it began. 'There's hope on the other side. Don't give up. We're waiting for you and the Irish government has assured us they'll do everything possible to ensure your safe and prompt arrival here with us.'
A hush fell over the crowd as the door to the Passport Office opened and the man the waiting crowd had affectionately named the Mouth of Sauron stepped forth. Those inside called him 'union leader'.
"People, people," he roared over the boos. "Please, this is the fault of the government. We are protesting at the cuts to people's pay and livelihoods, at the loss of your jobs and the lost jobs to come, at this government's failure to produce a strategy to save the economy and its determination to pit worker against worker..."
"I've a bleedin' flight in the morning, me sister's getting married in Wales. You're being totally selfish." At this point the union leader's voice was drowned out by angry hissing people in the queue.
"We're protesting your right to protest," one well spoken man shouted above the furore. "You're all overpaid fat cats and the government's decided to stand up to you for once and for all, and I for one will be supporting that decision from my new life in Montreal when I take up the job I've been promised there."
Defeated, the man from the union returned indoors, shaking his head at the threats to storm the building and learn how to work the laminator. Inside the front door he was met by a shaking under-siege worker who informed him that they'd just had good news. "It seems the firemen may be going on strike – that might take the pressure off us a bit?"
"Maybe at Hallowe'en, my child," the union leader shook his head. "But not with the summer holidays approaching."
In other news, the much hyped and narrowly anticipated Fine Gael programme for aestethic political reform was released on Monday. The Blueshirt central command suffered a blip the previous Friday when some 14-year-old, home for the Easter break from Eton and purporting to be a member of 'young' Fine Gael, went on RTÉ radio condemning the party leadership's grand plans for change (senior members are quoted as saying if the media had checked at all they'd have been told there are no 'young' members in Fine Gael).
"We'll not stand for this talk of modernisation and change," the young gentleman argued passionately under the heat of the Pulitzer prize-winning questions from the radio journalist. "We agree with the leadership, but we do not agree with their leadership."
A search party was sent out over the weekend at the party's annual 'the election's almost here' gee-up (running for the last two years) for the dissenter and others like him, but none could be found. Just in case, Fine Gael headquarters decided to water down their proposals to avoid anybody else coming forward and calling them too radical.
An idea had already been included to put decisions of any import on the long finger, via a talking shop of victims randomly selected from the  electoral register (akin to the Vietnam draft), but the party felt secure in its proposals of abolition of the Seanad and a reduction of TD numbers from 166 to 146.
This will get underway in all constituencies missing a Fine Gael TD and featuring a five-seater where a Shinner had been elected. Some worried about the Seanad abolition but a perfectly coiffed Frances Fitzgerald was sent out to knock that back. "We've never liked the name," she pronounced. "We've decided to create a progressive, forward looking body called the House of Lords. Much more effective, don't you think?"
Reaction to the reform plan was muted. "We're astonished at its lack of imagination," one Labour party source confessed. "We expected a much more detailed proposal on how to prevent Shinners being elected, and at least the abolition of Louth, Donegal and Cavan/Monaghan as real constituencies. It's been a very disappointing exercise."
Hitting back, one Fine Gael source said, "Tell those Labour heads we debated how best to reduce the Irish system to a two-party political race, but we're relying on them to support our tax on children's nappies to turn around the economy when we take the reins of power again."
An Phoblacht Magazine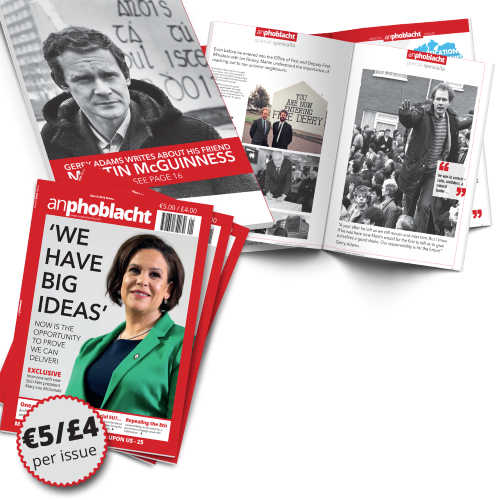 AN PHOBLACHT MAGAZINE:
The first edition of this new magazine will feature a 10 page special on the life and legacy of our leader Martin McGuinness to mark the first anniversary of his untimely passing.
It will include a personal reminiscence by Gerry Adams and contributions from the McGuinness family.
There will also be an exclusive interview with our new Uachtarán Mary Lou McDonald.
test