18 March 2010 Edition
Our day in the sun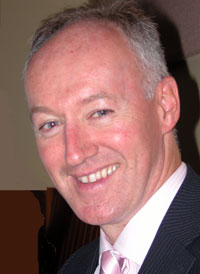 BY ELLA O' DWYER

EASTER SUNDAY is the annual 'day in the sun' for republicans – though more often than not, the heavens will open and pour down on the belligerent gatherings. Regardless, it's still our day; solemn in its reminder of our republican dead, yet joyful in the sense of renewal and comradeship that comes with any type of republican gathering.  
But have you ever found yourself of an Easter Sunday pounding the streets of some quiet Irish town to the beat of an 'R.F.B.', with an audience of baffled onlookers wondering 'what's the occasion?  Or have you ever had to ask what an RFB (Republican Flute Band) is? Have you ever gone around with the Easter Lilies to find teenagers contribute but shyly ask what the 'pretty' symbol means?  
Republicans are very up to speed when it comes to our history – the story of the Rising; the meaning of the Lily and the core messages of the Proclamation. But outside the immediate fold there are Irish and non-Irish who just haven't gotten the message.
An innovative undertaking by South Armagh republicans aims to address that factor, with fresh ideas for this year's Easter commemorations.
"We had a review recently of our annual commemorations", Declan Murphy of South Armagh Sinn Féin says. "We have six commemorations in this area every year, spreading over from Easter Saturday to the Monday, and it stretches us at an organisational level to the point where we felt we weren't managing adequately to get the message across.  While the Proclamation was being read out at all commemorations, the actual story of that document and the Rising wasn't being fully explained. The whole story of 1916 was getting lost on people."  
In effect, Declan and the local republican structure feel that they may not have been adequately commemorating our patriot dead, so they are making changes.
"The events", Murphy says "were becoming too dependent on the bands – they were becoming more like band parades than commemorative and educational events.
"We were spread so thinly that we weren't able to pay enough attention to detail so we felt that by cutting down on the number of commemorations that we would do more justice to the occasion. Each year we had commemorations in Mullabawn on the Saturday night, in Crossmaglen, Camlough, Cullyhanna, Killeen on Sunday and Belleeks on Easter Monday. This year, rather than having six, we will have three bigger events, which will do far more justice to our fallen dead and their families. It's also about getting young people to understand what 1916 was about."
South Armagh proposes to hold a weekend of commemorative events. For instance, there will be colourful pageantry and a football tournament. "We are aiming to be more inclusive. Our local minister, Conor Murphy, will be sending out invitations to various football teams and various community groups, so we are reaching out to as many people as possible."


WAKE HOUSE
Probably one of the most interesting and creative ideas that local republicans have come up with is the 'Wake House' – the home where traditionally the deceased is laid to rest before burial. "The Wake House, where the exhibitions will take place, is a small old house in Camlough, where we will show memorabilia depicting various stages in the struggle for Irish freedom. For instance, one room will exhibit items depicting the 1798 period, another the Tan War – from 1916 through to 1921 and '22. Then there will be an exhibition representing the most recent phase of struggle."
It sounds like a weekend to look forward to and a plan that might appeal to other areas. At least the broader Irish and non-Irish family will know what all the fuss is about, and without them, we will never unite this country.
HONOUR IRELAND'S PATRIOT DEAD – WEAR AN EASTER LILY 
An Phoblacht Magazine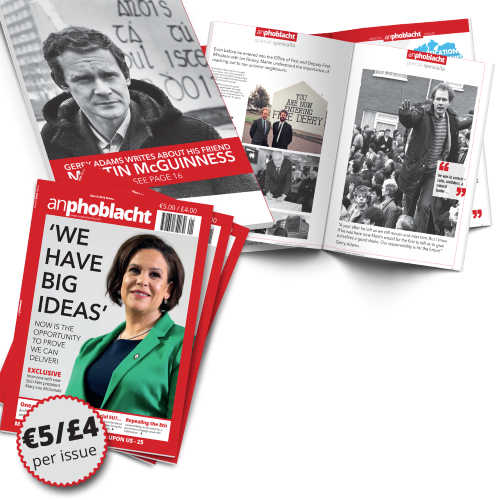 AN PHOBLACHT MAGAZINE:
The first edition of this new magazine will feature a 10 page special on the life and legacy of our leader Martin McGuinness to mark the first anniversary of his untimely passing.
It will include a personal reminiscence by Gerry Adams and contributions from the McGuinness family.
There will also be an exclusive interview with our new Uachtarán Mary Lou McDonald.
test