18 March 2010 Edition
Murphy sacks NI Water board members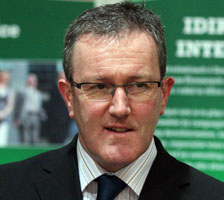 Regional Development Minister, Conor Murphy, has been praised for his decisive action last Friday, when he announced that he had dismissed Chairman Chris Mellor and a number of non-executive directors of the Board of NI Water (NIW). Then on Tuesday, in a statement to the Assembly, Murphy said he was now considering the positions of two more NIW board members after a further investigation by the chief executive Laurence MacKenzie. They are Finance Director Ronan Larkin and Director of Asset Management George Butler.
The probe is to determine "which executives within the company should be held responsible for the failures in procurement governance and control", Murphy explained.
The Sinn Féin MLA made these decisions in light of the findings of the recently completed Review of Procurement Governance in NIW, and he said he made taken the step to dismiss half the body's board "after "a great deal of consideration of all the evidence".
Mellor and non-executive directors John Ballard, Ruth Thompson and Declan Gormley were fired over the mishandling of lucrative contracts. The scandal is understood to relate to some 21 contracts worth in excess of £8 million in total.
"The findings of the report stated that there had been a serious breakdown in the governance and control framework of NIW in relation to contract approvals, and stated that this was a serious matter for those responsible, namely the NIW Board and Executives responsible for ensuring compliance," said Murphy.
"I intend to take firm action to fully address the recommendations within the report and have asked the NIW Chief Executive to work alongside my Department in putting in place an action plan to do this.
"I have taken this step in order to provide a firm basis for the company to establish new governance arrangements and to move forward with the confidence of the community.
Antoinette McKeown, chief executive of the General Consumer Council, said she was appalled and praised the minister for his swift action.
Sinn Féin Regional Development spokesperson Raymond McCartney, welcomed Murphy's decision to examine all options, including the option of bringing NI Water back under central government control.
"NI Water has been in existence as an arms-length government-owned company since 2007. This governance arrangement was established by the previous direct rule administration as a self-financing business model, which was to become self-sustainable in the long-term through household water charges.
"My colleague Conor Murphy has already ruled out the privatisation of these services and reaffirmed the commitment to ensure they remain in full public ownership. He then deferred proposed household charges over the course of this Assembly term. He has now moved to examine the option of bringing NI Water back into his Department and under central government control and what the implications of that would be, which is to be welcomed."