18 March 2010 Edition
Murphy leads by example
The Fianna Fáil/Green government could learn a thing or two from Conor Murphy's swift and decisive action last Friday.
Sinn Féin's Minister for Regional Development in the Northern Executive sacked a number of members of the northern water board, NI Water, including the chairperson, when it was found that there was serious mismanagement in relation to the awarding of contracts.
Conor Murphy's decision stands in stark contrast to the Fianna Fáil/Green government's handling of the scandal involving former senior members of FÁS, including Roddy Molloy, who was given a large payout for his resignation.  
His actions, aimed at restoring public confidence, stand in stark contrast to the dithering of Minister Mary Coughlan and her colleagues when the scandal about the waste of public money by the Board of FÁS was revealed. Roddy Molloy, who had presided over the waste of millions of taxpayers' money, was given a golden handshake and a pension worth almost €2 million in order for him to resign.
Perhaps the Fianna Fáil/Green government could learn a thing or two from the actions of Conor Murphy. However, we seriously doubt that anyone in that government is capable of or willing to take such decisive action.
An Phoblacht Magazine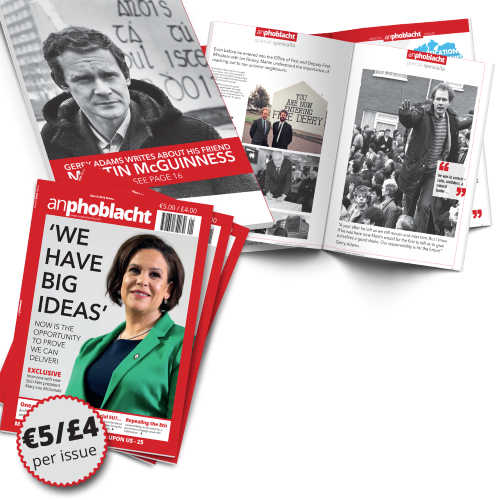 AN PHOBLACHT MAGAZINE:
The first edition of this new magazine will feature a 10 page special on the life and legacy of our leader Martin McGuinness to mark the first anniversary of his untimely passing.
It will include a personal reminiscence by Gerry Adams and contributions from the McGuinness family.
There will also be an exclusive interview with our new Uachtarán Mary Lou McDonald.
test