11 March 2010 Edition
Meath honours Mary and Ray Vaughan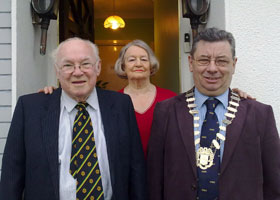 Working away on the quiet
Mary and Ray Vaughan are this year's honourees for the annual Meath Dinner Dance, to be held in Athboy next Saturday.  A modest and unassuming couple, they have worked quietly for the republican cause over the decades of the modern conflict and before. Here they tell ELLA O'DWYER that they "did their best" for the struggle and that they are very pleased to be honoured in this way.
Ray and Mary come from a place called Ballivor on the border between Meath and Westmeath, near Mullingar. Ray used to work as a chef, though he's retired now. I ask him how he feels about being selected as an honouree for the upcoming event.  "It's nice to be honoured", he says " but I'm a quiet man, I don't get excited about anything – publicity or that sort of thing. I joined in the 1940s and served time for firearms charges in 1974. I was sentenced to three years concurrent and I served one year. We helped a lot of people on the quiet, we don't go public about anything we did."
Ray identifies the similarities between the Irish context and the oppression of apartheid. "I was always aware of the issue of Irish freedom and then I was over in South Africa and saw what was going on out there with apartheid. I was there in the '60s. It reminded me of how the Irish were kept down by the English and we were in the same kind of position as the Blacks. I was in South America too for a while and there used to be little revolutions out there every day of the week – in places like Panama. The struggle is going pretty well now in Ireland – there's good people looking after that.
"Mary helped all down the years. We did it on the quiet. We did our fair share – did what had to be done. We were taught about republicanism and Irish history going to school. We did our best. But age is catching up with me.  I'm 76 now. I had a lot of operations, my back gives me trouble."
Mary is a republican stalwart and modest to a fault. "I was interested from the start, from when the Troubles began in 1969. Ray was involved from way back. We're in our 70s now so we can't be very active. I never did anything spectacular – just supported the struggle in any way that I could.
"We're delighted to be asked to be honourees for Meath. It's such an honour because there are so many people so much more deserving, people who did an awful lot more than we did, – I'll speak for myself – more than I did," she says.
Chair of Trim Sinn Féin Paul Scannell has a different take on that. "Mary and Ray are great republicans", he says. "They are an inspiration to people like me. I deliver An Phoblacht to the house, so I see them regularly. Ray is a legendary figure going back to the '50s. People like Mary and Ray inspire us to keep going until we get a united Ireland and a 32 County Socialist Republic."

An Phoblacht Magazine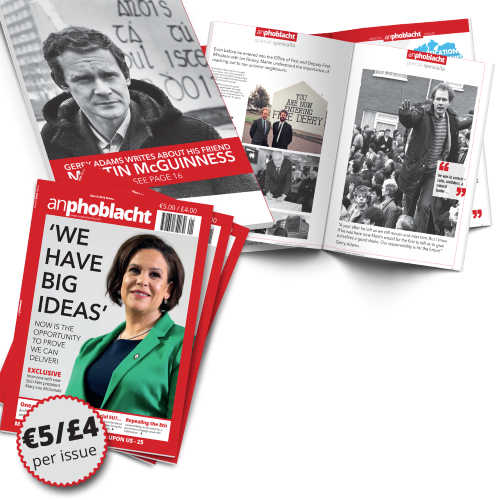 AN PHOBLACHT MAGAZINE:
The first edition of this new magazine will feature a 10 page special on the life and legacy of our leader Martin McGuinness to mark the first anniversary of his untimely passing.
It will include a personal reminiscence by Gerry Adams and contributions from the McGuinness family.
There will also be an exclusive interview with our new Uachtarán Mary Lou McDonald.
test