11 March 2010 Edition
Problems at Tallaght Hospital raised two years ago
This week's revelation that over 57,000 x-rays that were taken at Tallaght Hospital in Dublin were not examined by a consultant radiologist is a scandal that can be traced directly back to the cutbacks that have been imposed on the health service.
This is hugely distressing for patients not only of Tallaght but across our health services. After all the promises of better governance and accountability in our hospital network following previous cancer diagnosis scandals, we now find that this gross neglect went on from 2005 to the end of 2009.
The HSE is already under fire this week over its unconscionable delays in publishing reports into the deaths of young people in its care.
Dublin South West Sinn Féin Councillor Seán Crowe warned of serious problems and shortages of resources at Tallaght Hospital two years ago. At that time Tallaght was being downgraded and stripped of essential staff that were not being replaced when their contracts ended.
Unfortunately, his concerns fell on deaf ears and nothing was done by the HSE or the Department of Health.
If you cut resources, cut essential staff, cut vital funding, it's inevitable that hospital systems and sick and ailing patients will suffer.
In her determination to develop a private, for- profit, healthcare system, health minister Mary Harney has destroyed the public infrastructure on which people depend. This has led to numerous unnecessary deaths and much hardship, pain, stress and extra financial burdens for patients throughout the state and their families.
Harney has failed repeatedly and she should resign or be removed from office.
An Phoblacht Magazine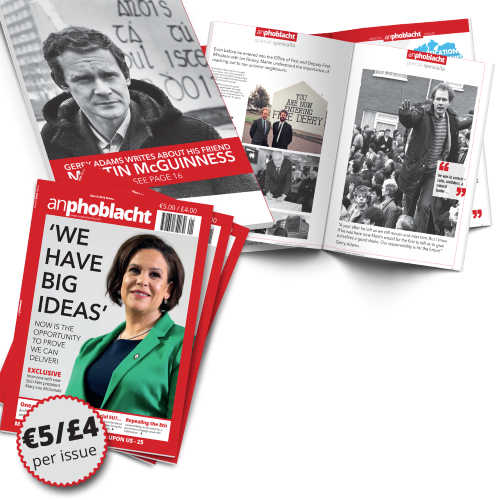 AN PHOBLACHT MAGAZINE:
The first edition of this new magazine will feature a 10 page special on the life and legacy of our leader Martin McGuinness to mark the first anniversary of his untimely passing.
It will include a personal reminiscence by Gerry Adams and contributions from the McGuinness family.
There will also be an exclusive interview with our new Uachtarán Mary Lou McDonald.
test