4 March 2010 Edition
Call to ban St Patrick's Day Stoneyford Orange Parade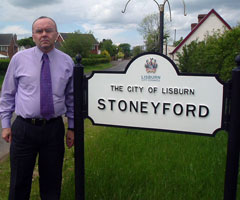 Sinn FÉIN MLA Paul Butler has said the Chief Constable of the PSNI should ban an Orange parade through Stoneyford village in Antrim on St Patrick's Day.  He has also called on the Orange Order to prevent its Orange hall in the village being used to facilitate any parade.
"This is an opportunity for the Orange Order in this new political era to show that they are committed to working to end provocative parades through mixed areas," said Butler.
Sinn Féin met with the Parades Commission on Wednesday morning to raise concerns regarding the planned parade. In the past, the Parades Commission has confined the Pride of the Village Flute Band to the main street in Stoneyford.   
Paul Butler added: "This attempt to march through mixed areas in the village where many Catholics live is a gratuitous exercise in sectarian intimidation.  
"Once again, the sectarian bigots will be attempting to use the opportunity of St. Patrick's Day to intimidate nationalists who want nothing other than to be allowed to live peacefully with their neighbours.   
"This notorious band has applied and been correctly denied permission to parade into these mixed residential areas over the past number of years. Sinn Féin will be making it very clear to the Parades Commission that such an exercise in sectarian intimidation must not be permitted. Local residents do not want it."