4 March 2010 Edition
Remembering the Past: Thomas Devin Reilly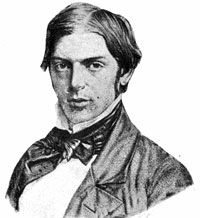 BY MÍCHEÁL Mac DONNCHA
One of the most radical and clear-sighted of the Young Irelanders was Thomas Devin Reilly, who was born in Monaghan town in 1824.
Devin Reilly attended Trinity College Dublin, where he was influenced by Thomas Davis and Charles Gavan Duffy. In 1846 Devin Reilly became a writer for The Nation newspaper, the first mass circulation nationalist newspaper in Ireland. The young team of writers used the paper to great effect and it was one of the key weapons in Daniel O'Connell's movement for the repeal of the Act of Union. But they were not uncritical of O'Connell's strategy and soon fell foul of him.
As Ireland was engulfed by the Great Hunger the Young Irelanders turned away from O'Connell's doctrine of opposition to the use of physical force in any circumstances. Devin Reilly joined John Mitchel on his new newspaper The United Irishman. After the arrest and transportation of Mitchel and others for 'treason felony', Devin Reilly co-founded with John Martin The Irish Felon newspaper. He was chief writer along with James Fintan Lalor.
In his book Labour in Irish History James Connolly wrote:
"The Irish Felon embodied the ideas of those who insisted that the English conquest of Ireland was two-fold, social, or economic, and political, and that therefore the revolution must also have these two aspects."
Ballingarry
Devin Reilly took part in the ill-fated attempt at an uprising in Ballingarry in County Tipperary in 1848. He went on the run in his native County Monaghan and in County Fermanagh before slipping out of the country and going into exile in the United States. He was primarily a newspaper man and in Washington he edited The Democratic Review and later The Washington Union.
Devin Reilly showed his radicalism when writing about the suppression of workers in France:
"The social system in which a man willing to work is compelled to starve, is a blasphemy, an anarchy, and no system. For the present these victims of monarchic rule, disowned by the republic, are conquered; 10,000 are slain, 20,000 perhaps doomed to the Marquesas. But for all that the rights of labour are not conquered, and will not and cannot be conquered. Again and again the labourer will rise up against the idler – the workingmen will meet this bourgeoisie, and grapple and war with them till their equality is established, not in word, but in fact."
Thomas Devin Reilly died of a stroke in Washington, D.C., on 5 March 1854, 156 years ago this week.
An Phoblacht Magazine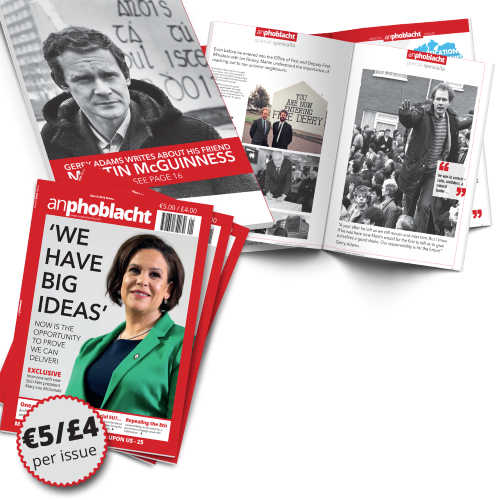 AN PHOBLACHT MAGAZINE:
The first edition of this new magazine will feature a 10 page special on the life and legacy of our leader Martin McGuinness to mark the first anniversary of his untimely passing.
It will include a personal reminiscence by Gerry Adams and contributions from the McGuinness family.
There will also be an exclusive interview with our new Uachtarán Mary Lou McDonald.
test