4 March 2010 Edition
Paisley bows out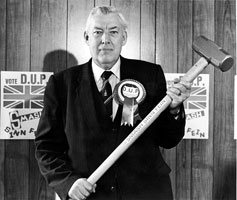 From Doctor No to government with Sinn Féin
From unionist firebrand as the leader of the ultra-unionist DUP to the man who took his party into government with Sinn Féin, Ian Paisley's political journey has seen many twists and turns.
Now that journey is more or less at an end. His impending retirement, first revealed to a local North Antrim newspaper this week, is bringing the curtain down on what can only be euphemistically described as a colourful political career.
Paisley still retains his last elected office – that of North Antrim Assembly member – but that can only be for a short matter of time.
The question now is what will now happen to the Paisley dynasty, centred on the North Antrim constituency, as its key figure heads off into the sunset.
It seems more than likely that Ian Paisley Junior will be selected to carry the DUP baton into the forthcoming Westminster election, and with the TUV's Jim Allister already at the starting post that duel will no doubt throw up major concerns for a DUP, fragile from Allister's showing in last June's EU elections and the publicity over the Robinson affair.
There is also the question mark over Paisley Junior's relationship with North Antrim developer Seymour Sweeney. Paisley Junior maintained he "knew of" Sweeney but it transpired he (Paisley Jnr) used his political influence and lobbied for him.
A third unionist candidate, under the guise of either a UUP runner or a Tory from the UCUNF family, will put more pressure on the unionist electorate.
Certainly the retirement of Ian Paisley Senior from politics in the Six Counties marks the end of an era.
As a man who was synonymous with anti-Catholic bigotry, his legacy among Northern nationalists will not be a fond one.
His religio-political doctrine saw him lead many a rally and protest aimed at halting the nationalist demand for justice and equality in the North.
His was the most strident voice warning of the dire consequences for 'Ulster' in the aftermath of both the Sunningdale Agreement in 1974, which led to the Ulster Workers' Council strike in 1974, and the 1985 Hillsborough Accord.
Unionist opposition to the pact signed by Garrett Fitzgerald and Margaret Thatcher in Hillsborough saw mass street protests led by the DUP.
This was also the era of the Ulster Clubs, brought into being at a DUP-organised rally in Belfast's Ulster Hall, and which gave us the enduring image of the party's leadership adorned in their red berets parading in quasi-military formation.
That imagery was superseded by that of Paisley gripping a sledge hammer and proclaiming that he would smash Sinn Féin.
Instead, although coming late to the game, it was Paisley Senior who eventually came to an accommodation at St. Andrew's that would see him share the First Ministry with Martin McGuinness.
NOW: Paisley came to an accommodation that would see him share the First Ministry with Martin McGuinness