4 March 2010 Edition
Another View by Eoin Ó Broin
A Coalition for Change
The Charlie McGlade Cumann in Dublin and the Keating/Sands Cumann in Portlaoise are right. Sinn Féin should declare loudly and unambiguously against coalition with Fianna Fáil and Fine Gael.
Motions 18 and 19 on this year's Ard Fheis clár call on delegates to oppose participation in right-wing coalitions with either of the southern state's two largest parties.
Supporting these motions is in the interests of our struggle for a 32-County democratic socialist republic. It is also in the interests of building our party and increasing our political strength.
The first argument is very simple. Fianna Fáil and Fine Gael are right-wing partitionist political parties who have no interest in advancing Sinn Féin's twin goals of a united and equal Ireland.
In government, both parties will pursue an agenda of entrenching partition and deepening inequality in Irish society.

History tells us, again and again, that small progressive political parties achieve little in such coalitions.
The story of Labour Party, Clann na Poblachta, Workers' Party, Democratic Left and Green Party participation in right-wing coalitions is one of broken promises, disappointment and failure.
Manifesto commitments to the electorate to deliver change when in government are broken. The hope that motivated activists and supporters in the election campaign and early days and weeks of the coalition turns to disappointment. And the political project on which the party was based fails.
Each of the parties mentioned above have managed to convince themselves that the small scraps of change they manage to secure when in government somehow offset the disastrous social and economic policies that form the principle business of the coalition.
But the electorate is never convinced. Disappointed and angry at the compromises made by the smaller progressive coalition partner, the electorate walk away in search of some other alternative.
In turn, the organisational and political strength of the smaller coalition partner is damaged, often beyond repair.
Clan na Poblachta are gone. The Workers' Party and Democratic Left are gone. And the Green Party will in turn be gone.
As for the Labour Party, they have, by their participation in successive right-wing coalitions, marginalised themselves to a peripheral role in the shaping of southern Irish society. As a consequence, and despite their own stated intentions, they have ended up assisting rather than challenging the structural causes of inequality and division that have and continue to scar our society.
Sinn Féin must be more ambitious. We must set our sights higher than the other progressive political parties that have gone before us.
Yes, we need a strategy for securing state power, north and south. Yes, we want to be a party of government, implementing structural change in Irish society. Yes we understand that any such strategy will require a coalition for change inside and outside of government with other progressive forces in Irish society.
But coalition with Fianna Fáil or Fine Gael is not a credible strategy for securing state power. Nor will it help us to advance our radical agenda for social, economic and political change in Ireland, north and south.
The Charlie McGlade Cumann in Dublin and the Keating/Sands Cumann in Portlaoise are right, and at this weekend's Ard Fheis, I will be supporting Motions 18 and 19.

 
An Phoblacht Magazine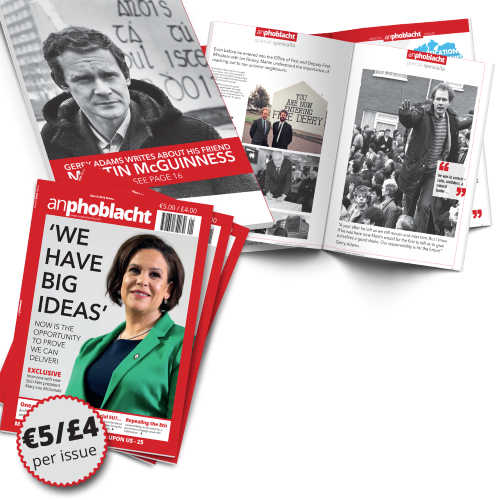 AN PHOBLACHT MAGAZINE:
The first edition of this new magazine will feature a 10 page special on the life and legacy of our leader Martin McGuinness to mark the first anniversary of his untimely passing.
It will include a personal reminiscence by Gerry Adams and contributions from the McGuinness family.
There will also be an exclusive interview with our new Uachtarán Mary Lou McDonald.
test