4 March 2010 Edition
Nationalisation is inevitable
You really couldn't make it up. AIB announced this week that raising its mortgage interest rates is inevitable. Talk about biting the hand that feeds.
The taxpayer is sick of being forced to help banking businesses that are clearly incapable of running themselves and then being doubly punished by those businesses' excessive charges.
Neither AIB nor Bank of Ireland can run themselves as businesses. They are both loss-making, in need of financial help and insurance from the taxpayer, yet they continue to pay their CEOs half a million euro each year.
Any business that cannot make a profit, that is dependent on taxpayers' subsidies, should put its wage bill on the table. Instead, these two businesses are raising their charges on the very customers that are bailing them out.
They are attempting to be both socially dependent entities and privatised profit-making entities.
If AIB increases its mortgage interest rates, it will set a dangerous precedent for other banks and the reaction from the public will be outrage.
There is no NAMA for homeowners and it is they who will be forced from their homes if interest rates go up.
Yes, banks are borrowing more on the wholesale market than their interest rates are returning – but what cost-saving measures have they themselves considered? Those at the top are not going to have their Mercs and perks threatened.
Ultimately, this just proves the point that both these banks need to be nationalised.
Taxpayers will have a lot more faith in nationalised banks at this stage, particularly when they see what their money is being used for now.
An Phoblacht Magazine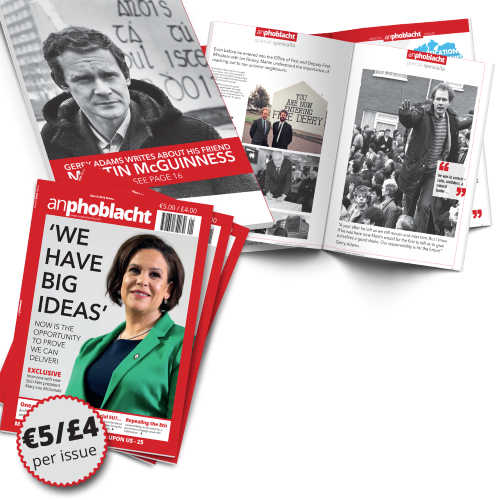 AN PHOBLACHT MAGAZINE:
The first edition of this new magazine will feature a 10 page special on the life and legacy of our leader Martin McGuinness to mark the first anniversary of his untimely passing.
It will include a personal reminiscence by Gerry Adams and contributions from the McGuinness family.
There will also be an exclusive interview with our new Uachtarán Mary Lou McDonald.
test