18 February 2010 Edition
Human trafficking - Today's slave trade
It's time for questions

BY ELLA O'DWYER

What is human trafficking? Cois Tine, an organisation promoting the integration of people from all communities and cultures into Ireland, defines human trafficking as "the recruitment, transportation, transfer, harbouring or receipt of people for the purpose of exploitation. This includes persons forced into prostitution or other forms of sexual exploitation, forced labour or services, slavery or practices similar to slavery, servitude or the removal of organs. Chilling stuff  – it's basically a modern slave trade. 
Sex slavery is the most disturbing area of corruption in the practice of human trafficking. Ajeet Singh is an Indian human rights worker who campaigns on behalf of the most vulnerable people in Indian society – women and children who are victims of sex slavery. Last week he was in Ireland as a delegate to a three-day conference hosted by Front Line, a Dublin-based organisation with the specific aim of protecting human rights workers at risk because of their work.
Ajeet directs an organisation based in Varnasi in the north of the country, bordering Nepal. "The organisation I work with", Ajeet explains, "is called GURIA – a word that means 'doll'. In other words the women I try to help have been treated like dolls – something to play with and then throw away. We work at rescuing women and children who are the victims of sex slavery. If a woman wants to work independently as a prostitute that's for her to decide and these women should be decriminalised. Our organisation ensures a space for women who decide they will be prostitutes. It's the pimps, the traffickers, the brothel runners and, in many cases even the police, politicians and judiciary, that we are challenging." These, according to Ajeet, are the people with a vested interest in ensuring that sex slavery and human trafficking continues.
On 25 October 2005 Ajeet organised an operation to rescue trafficked girls. "We held a rescue operation to save trafficked minor girls. Many GURIA volunteers were involved. It was in the red light area of Varanasi. As the rescue was in progress the police came and beat us up and because of that the brothel keepers managed to take back many rescued girls."

Ajeet began his campaign at an early age. "I was 17 when first got in this work", Ajeet explains. "I was at an Indian wedding when I saw this woman dancer. Many dancers in India also work as prostitutes. It wasn't aesthetic dancing. It was rather vulgar and when I saw this woman being exploited in this way I asked myself how could this happen in a civilised society. Is this civilisation? I got a lot of opposition from my family for getting involved in this work. They had expected me to become some kind of bureaucrat or the like. There is a taboo around the whole area of sex and prostitution in India", he says.  But he felt he had to help.
There are a number of factors that facilitate the abuse of women and girls. "In India there is gender inequality and in some religions, and I stress some, there is the ethos that girls must be devoted to the Gods. Women are discriminated against in India. I have four sisters and in my family I could see that I got special treatment and my sisters didn't. I never liked that."
Of course, deprivation is at the heart of this heartless industry. "Poverty is the big issue and in India we also have the caste system, so the low caste Dalit, (the untouchables) and the more backward communities are the main targets and victims of the sex trade. It's always the marginalised who are targeted by the flesh trade." While the caste system has been abolished under the Indian constitution, there is still discrimination and prejudice against the Dalit.
The problem of human trafficking, and the trail of misery that goes with it, is not confined to far-flung places like India, however. It's here in Ireland and right under our noses. The 2008 US State Department "Trafficking in Persons Report" says "Ireland is a destination country for women, men, and children trafficked for the purposes of commercial sexual exploitation and forced labour – women from Eastern Europe, Nigeria, other parts of Africa as well as smaller numbers from South America and Asia, have reportedly been trafficked to Ireland for forced prostitution," though other forced labour victims are reportedly found in domestic labour, and restaurant and agricultural work. 
I point this out to Ajeet. "In the context of places like Ireland", he says, "You must remember that human trafficking is not just about sex slavery. It can involve enforced labour and exploitation at every level right down to organ transportation."
I ask Ajeet Singh what Ireland should do to combat the often invisible virus of human trafficking?  Ajeet calls for vigilance.  "This is what I want to say to the Irish people, you must realise that you have to be aware. You have to be a more aware society in terms of what is going on all around you. You need to be more questioning and once you begin to question, you've made a start. You need to be aware of what kind of society you want." 

While aspects of Indian culture, especially in terms of its caste system, may seem  'backward', it is also capable of producing a progressive approach to combating the whole sex slavery industry.  "I think beyond the box", Singh says, "I don't look down upon the people I work with; I try to live in their communities to support them." He also has a broader philosophical view on the whole disgrace that is slavery in our time. "There is a need to understand life", he says, "to take the inward journey to see what kind of society you want.  I believe in the power of ordinary people to make change happen. As I said, by becoming a more aware and questioning society, you make a start. The beginning is made with questions."
So in the Irish context, it's time for questions.

An Phoblacht Magazine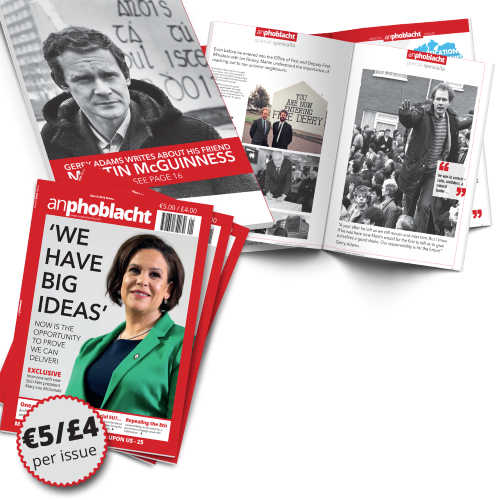 AN PHOBLACHT MAGAZINE:
The first edition of this new magazine will feature a 10 page special on the life and legacy of our leader Martin McGuinness to mark the first anniversary of his untimely passing.
It will include a personal reminiscence by Gerry Adams and contributions from the McGuinness family.
There will also be an exclusive interview with our new Uachtarán Mary Lou McDonald.
test