18 February 2010 Edition
Bishops in the dock
One by one this week, the 24 Irish bishops called to the Vatican appeared before what was, in essence, a tribunal including cardinals and other senior church officials and, for a lot of the time, Pope Benedict himself. Each had to explain what happened in his diocese and how he intended dealing with the outcomes. Then each faced comment and analysis by the Vatican's representatives.
The failure of the Vatican to even mention resignations of bishops in the aftermath of the meeting, however, leaves a bad taste. It is a greater disgrace that the Pope has to date refused to meet any of the victims of sex abuse in person.
What stands out for most observers is the suffering that some of those Irish bishops summoned to Rome let be inflicted on helpless young victims in parishes and church-run institutions.
As one response to the Vatican's statement following the meeting put it: "It is deeply insulting to survivors to suggest that they were abused due to failures of faith, rather than because sex-offending priests were moved from parish to parish, and those in authority looked away while further children were sexually abused."
Some of the more disturbing findings of the Murphy Report relate to the systematic attempts by numerous Irish bishops to control information, prevent public disclosure and silence dissent. Some of the most heart-wrenching testimonies from abuse victims are their reports of having nowhere to turn when their priest was part of the problem and of their attempts to engage others within the church that were ignored or rebuffed.
Bishops' resignations would not "fix" everything, but they would be a long-overdue, tangible deterrent.  
To date, however, only one bishop has been stripped of his powers and only one of the four resignations that have been tendered has been accepted.
Eight years ago, in relation to similar revelations of endemic abuse in the United States, there was the same timid, failed manoeuvres by the church hierarchy: top U.S. church officials travelling to Rome, an obsession with blaming predators, little attention to corrupt bishops, and repeated pledges of reform, but painfully little real change. 

An Phoblacht Magazine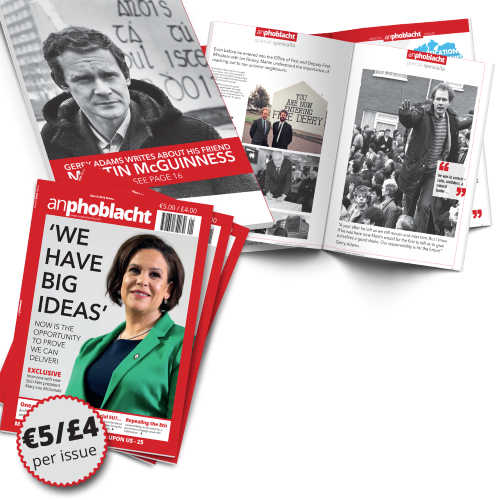 AN PHOBLACHT MAGAZINE:
The first edition of this new magazine will feature a 10 page special on the life and legacy of our leader Martin McGuinness to mark the first anniversary of his untimely passing.
It will include a personal reminiscence by Gerry Adams and contributions from the McGuinness family.
There will also be an exclusive interview with our new Uachtarán Mary Lou McDonald.
test