11 February 2010 Edition
Unregulated entrance tests wrong and unacceptable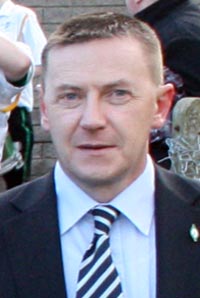 BY COUNCILLOR MICKEY COOGAN
South Down Sinn Féin
Last week primary school children who had sat a mismatch of unregulated Entrance Tests in December 2009 received their results.  Regardless of the results they received, all of the children who took these unnecessary tests deserve to be congratulated, and the same also applies to anyone who did not take these exams.
All of our children transferring to post-primary schools have the right to look forward to a bright future and an education system that is evolving so it does not promote an unfair academic system that favours the richer sections of our society.     
The silent majority of pupils who did not sit a test will be transferring into primary schools that teach the exact same curriculum and have access to the same level of qualifications as grammar schools.  These pupils deserve the same opportunities to reach their potential as they prepare for the next chapter in their academic and vocational lives.     
The testing of children at 10 and 11 years of age to decide if they may or may not enter a school is wrong and it is a system that has little or no proven benefits but perpetuates numerous educational and social disadvantages.     
On a daily basis post primary schools prove why the 11 plus should remain consigned to the dustbin of history, for these schools and their staff provide a first-class education so that pupils are equipped go out into society and excel in a range of careers, trades and jobs.      
The myth that all-ability schools will undermine academic excellence has been proven wrong by the very schools which insist on the sanctity of testing 10 and 11 year-old children on the basis that they must preserve the 'system'. This is a system they themselves no longer adhere to, as the 2009 Admission Grades accepted by grammar schools across the North clearly shows that the grade drift continues and that not a single grammar school restricted its intake to grade 'A's'. Indeed the majority of grammar schools accepted grades from A through to D.      
Parents understandably ask why do grammar schools put children through the charade of testing when the reality is they will accept all grades and none in order to fill their classrooms? That question once again will reverberate in many homes as it becomes clear that the schools which insisted on testing will accept a broad spectrum of pupils in order to maintain their school numbers.     
Sinn Féin once again calls on grammar schools to accept the reality of their own position and work with their educational partners in Primary and Post-Primary schools rather than continuing the charade of putting children through tests the results of which they have diluted to the point that makes them all but meaningless.      
Confusion is a term often used in the media and by pro 11 plus campaigners and if parents are confused by the system presented by grammar schools then the duty rests with them to explain their processes and provide clarity.     
Those who are genuinely opposed to the socially unjust practice of academic selection must recommit themselves to ending it, not by accommodating further testing on the false premise of 'give us more time and we will change'. The facts are the grammar lobby has had 50 years to change, yet they have continually held onto their unjust system.      
Sinn Féin is about driving radical and meaningful change and we are determined to build a 21st century education system that is based on equality and academic excellence and which will encourage all of our children to meet their potential.