11 February 2010 Edition
INLA move welcomed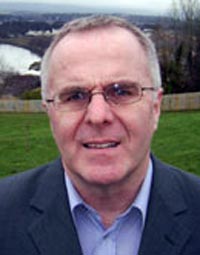 Derry MLA Raymond McCartney has welcomed the news, which emerged over the weekend, that the INLA had been engaged with the Independent International Commission on Decommissioning (IICD) and has put its weapons beyond use.
Speaking to An Phoblacht, McCartney said that the Peace Process has ensured that a peaceful and democratic path to a united Ireland exists. "There is no support for or appetite for armed actions within the republican community," he said.
"The INLA has recognised this by engaging with the IICD in this action. Other small militarist factions, both republican and loyalist, who are opposed to the Peace Process need now also to reflect on their position, given the political realities of 2010, and end their futile armed actions."
On Monday 8 February news also emerged that alongside the INLA arms move, the South East Antrim Brigade of the UDA and the long defunct 'Official' IRA had also put their arsenals beyond use.
The South East Antrim UDA had broken away from the main loyalist organisation in a dispute over the political direction the UDA had taken in recent years. While the differences between the UDA and it's South East Antrim Brigade crated tensions, it never erupted into the outright feuding that characterised loyalist infighting over the years.
The INLA move came some four months after its October 2009 announcement that its military war was over.
Its process of putting arms beyond use was witnessed by Conal McFeely of the Derry-based Creggan Enterprises, Peter Bunting of the Irish Congress of Trade Unions and Dr Ram Manikilingam.