11 February 2010 Edition
Future looks bright
The Hillsborough Agreement struck last Friday after marathon negotiations between Sinn Féin and the DUP was a remarkable achievement that bodes well for the future.
As Martin McGuinness said, the difficulty of the negotiations was hardly a surprise given the completely different viewpoints of the two parties. "I believe in a united Ireland. They want to maintain the union with England," he said. "This should not mean that we are incapable of respecting each other, of treating one another as equals and proceeding on the basis of partnership, respect, fairness and equality. I am utterly determined to continue to work in good faith and with a good heart with my unionist colleagues. I want to work in harmony with Peter Robinson for the good of the entire community."  
That is what Sinn Féin is about. The party signed up for agreements on Good Friday and at St. Andrews and again last week, and republicans proceed on the basis of implementing these commitments.
The challenge now is for the Six-County executive and the all-Ireland political institutions to deliver for all.  There are families and children living in poverty; elderly people feeling vulnerable and in fear. There are young families burdened by massive mortgages and in fear of losing their homes; people without jobs.  
A new and positive approach to power sharing in the Assembly needs to deliver for these people.
The government also needs to confront and defeat all kinds of hatred. As McGuinness said: "With determined and courageous leadership we must continue to lead that shrinking minority out of the trenches of the past. In this I am confident we can be assured of the support of the vast majority of our people. We need to make life better for all our children and grandchildren."
The only sour note struck was the negative stances taken by the SDLP and UUP, which said more about their narrow sectional obsessions than any real issue with the substance of the agreement reached. Their electorate deserved better than this sniping from the sidelines.
What this agreement must mean in practice is fully functioning political institutions operated for the people in true partnership and equality.

An Phoblacht Magazine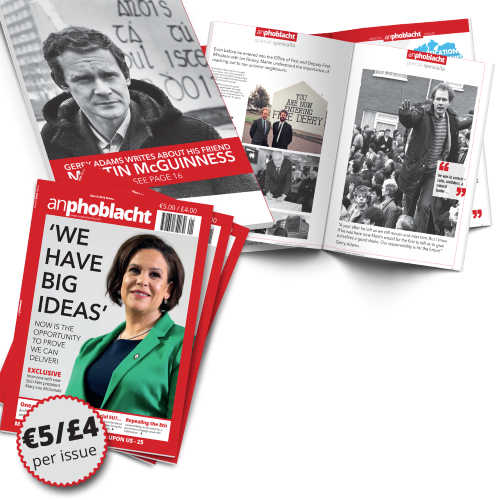 AN PHOBLACHT MAGAZINE:
The first edition of this new magazine will feature a 10 page special on the life and legacy of our leader Martin McGuinness to mark the first anniversary of his untimely passing.
It will include a personal reminiscence by Gerry Adams and contributions from the McGuinness family.
There will also be an exclusive interview with our new Uachtarán Mary Lou McDonald.
test