4 February 2010 Edition
More than a game By Gael Gan Náire
How I lost my networking virginity
THE Jackeen is out with a broken arm. The Lord God, I often lifted hay with the same thing after maybe being injured playing hurling or dancing. Well not dancing, to be strictly honest, but fighting with the townies at the dance. Good honest manly fighting it was; none of your knives and Glock pistols in those times. Other than maybe a plank of wood if it was handy to give a lad a skelp across the back of the head if he wouldn't lie down.
Not that the Jackeen works. Tapping away like a feckin' bird at a computer more like it. Sure that's not work unless you are a girl out of Secretarial College before they get married.
Speaking of computers, didn't the grandchildren get me a laptop for Christmas. Sure I don't know where I am to be honest but they told me that it would be grand for reading up on sport and history and it is not bad that way. You can join forums where you can compare the national records of the different counties in the Fight for Irish Freedom, if you can believe half of what they say about Dublin, and talk about Our Games.
Unfortunately, I have been banned from all of the GAA sites already – for nothing more than speaking my mind, a virtue that is in short supply in this country at the present time. And all I said on one was that the new Jackeen jersey with the Vodaphone logo had the right colours. Red, white and blue. What? And a feckin' picture of Buckingham Palace as their crest instead of the castle with a crow sitting on top of it or whatever they have now. Or at the least replace the crow with a magpie.
And I am on Facebook. I have 126 friends and I have only ever met eight of them in my puff but they seem to be a grand bunch and they send me messages about what they do all day. What they had for breakfast, their first bowel movements and what they think of the scrappage scheme and the like.
And you can join different groups who share the same interests. I'm in Bring Back the Latin Mass, Only Ladyboys Wear Hurling Helmets and Turn Longford into a Drain. To stop the flooding of decent hurling counties along the Shannon you understand. Nothing personal.



THEN there are quizzes that you can take. 'Who was the Greatest Statesman of the Twentieth Century'. And you are given a choice between Mussolini, Franco and Salazar. It's a tough one, you will have to admit now.
Another one is 'What Are You Like in Bed'? Well, I can be a bit grumpy I suppose if the Junior Bs have been beaten or the supper hasn't settled right. But sure some of the questions were all very peculiar but I answered them as best I could. Apparently I am a doggy man which is spot on but it doesn't say if that's coursing or on the track. Some Jackeen probably drew them up. I got the missus to try it as well and she's a cowgirl. A back to front one apparently, like Claire Trevor in John Ford's 1939  classic Stagecoach, except I'd say the missus would stay up longer if she had a good tea inside her.
Some of the quizzes are probably only a bit of a skit and I enjoy a good belly laugh the same as the next man. So I took the one What is your Mental Illness? One of the questions was How Do You React to Personal Disappointment? – 
(a) pick yourself up and look forward to life's next challenge
(b) stay in bed for a month
(c) bate the shite out of some lad in the pub
And no you can't pick any combination, say (c) and then (b), which would suggest that if it was a psychologist who drew up the questions then they were never employed by the Mid West Health Board.
Oh, I'm a 'borderline psychotic' by the way. 

An Phoblacht Magazine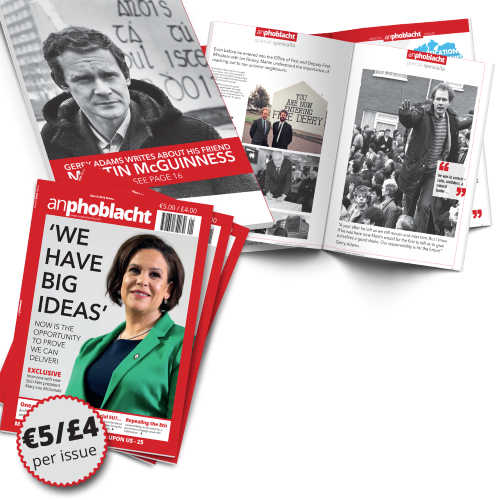 AN PHOBLACHT MAGAZINE:
The first edition of this new magazine will feature a 10 page special on the life and legacy of our leader Martin McGuinness to mark the first anniversary of his untimely passing.
It will include a personal reminiscence by Gerry Adams and contributions from the McGuinness family.
There will also be an exclusive interview with our new Uachtarán Mary Lou McDonald.
test