4 February 2010 Edition
Everyone was a target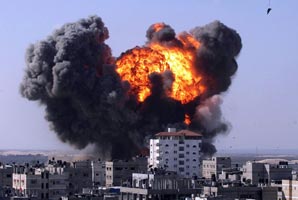 BY DARA MacNEILL
It is just over 12 months since the Israeli military ceased its all-out assault on the trapped, cornered population of Gaza: in excess of 1.5m people crammed into 360 square kilometres, the most crowded and densely populated place on earth.   
Over 4,000 homes were destroyed and Gaza's infrastructure – including health, water and sanitation – was systematically destroyed. Today, it is still in ruins and the ongoing Israeli blockade prevents it being rebuilt.  Israel claimed the offensive was necessary to protect its civilians from Hamas rocket attacks. Over the course of the assault 1,417 Palestinians were killed by the Israeli forces, while 13 Israelis lost their lives.   
A UN investigation published in September 2009 was unequivocal in its condemnation of Israel's behaviour, concluding that the campaign had systematically 'punished and terrorised civilians'.   The report's author – Justice Richard Goldstone, a Jew of South African origin, who was a strident opponent of Apartheid, delivered his conclusions without obfuscation or ambiguity, stating that: "....actions amounting to war crimes, and possibly... crimes against humanity, were committed by the Israeli Defense Forces."   
And the reaction from Israel to this remarkable, international censure? On Friday January 29, Tel Aviv announced that two Israeli soldiers had been 'disciplined' for violating the 'rules of engagement' in the firing of artillery shells towards a UN compound in Gaza. The nature of the disciplinary action taken against the two has not been specified.   
Along with the soldier who was prosecuted for stealing a credit card, this brings to three the grand total of military personnel against whom action of some sort, any sort, has been taken.   
Interestingly, the fresh charges were only revealed when Israel submitted its own report to the UN, on 29 January. The report was a defence of its own conduct and a direct response to Justice Goldstone's highly critical report. It would seem a rather meagre response  – or just indicative of a highly contemptuous attitude to the international community.   
A separate UN report into the 15 January destruction of the UN compound – which housed food supplies for the Gaza's population – had already accused the IDF of "negligence or recklessness". It is a matter of record that UN officials had called the IDF on seven separate occasions, on 15 January, to request that the shelling stop. Israel has since paid $10.5 million in compensation to the UN.  
In all, the compound was hit by three artillery shells and seven white phosphorous shells. The latter is a highly flammable agent that cannot be extinguished with water and burns human flesh to the bone.   The recently-disciplined Israeli officers were hauled before their superiors because their firing of artillery shells breached IDF procedures. No mention of the use of white phosphorous and its use to attack a very obvious civilian compound.   
But that really should come as no surprise. In July 2009, an Israeli organisation known as Breaking the Silence published a remarkable report. Breaking the Silence is composed of ex-IDF members, most of whom have served in the Occupied Territories. It was set up to raise awareness in Israel about the true nature of the Occupation and its long-term consequences.  (
http://www.shovrimshtika.org/index_e.asp
)   
Their July 2009 report contained devastating testimony from 26 IDF members who had taken part in the attack on Gaza. They confirmed, in detail, what most suspect and know to be true, but which Israel seeks always to hide.  The military personnel explained that the IDF used Palestinian civilians as human shields, fired white phosphorous grenades at 'suspect' houses and, as one participant graphically described it, "shot at everything that moved".   
The Palestinian 'human shields' were referred to as 'Johnnies' and were forced to walk in front of the soldiers, with gun barrels protruding over their shoulders. On occasion, soldiers would order the civilian to enter the house first and alone, like a disposable human probe.   One soldier witness explained that the IDF used the terms 'wet' or 'dry' to describe houses they intended to enter. The latter meant minimal or no firing.   
As one of the anonymous IDF soldiers described it, 'wet' was the military equivalent of no-holds barred: "Rockets, tank fire, machine gun fire... grenades. Shoot as we enter a room."   In Gaza, the soldier added, "there was no such thing anymore as 'dry' entry."   
As Yehuda Shaul, the founder of Breaking the Silence has pointed out: "The large-scale violence against the civilian population of Gaza was not so much the result of individual misconduct as of a system. There were almost no rules of engagement... so every target was legitimate."
An Phoblacht Magazine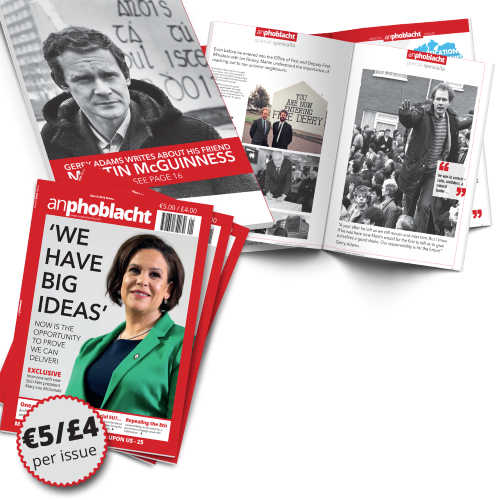 AN PHOBLACHT MAGAZINE:
The first edition of this new magazine will feature a 10 page special on the life and legacy of our leader Martin McGuinness to mark the first anniversary of his untimely passing.
It will include a personal reminiscence by Gerry Adams and contributions from the McGuinness family.
There will also be an exclusive interview with our new Uachtarán Mary Lou McDonald.
test