4 February 2010 Edition
Taoiseach ducks Dáil challenge by Sinn Féin TD to protect minimum wage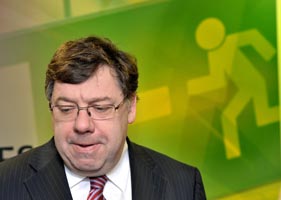 THE Taoiseach has ducked a challenge in the Dáil by Sinn Féin to protect the minimum wage against a background of calls by business chiefs to punish low-paid workers for the sins of criminally reckless bankers and property speculators and an inept Fianna Fáil in government.
Sinn Féin Dáil leader Caoimhghín Ó Caoláin TD described as "alarming" the failure by Brian Cowen to rule out a cut in the statutory minimum wage. Replying to Ó Caoláin in the Dáil on Tuesday, the Taoiseach also defended the Government's decision to exempt some of the highest-paid civil servants from the full effects of the public service pay cuts.
Deputy Ó Caoláin said:
"I challenged the Taoiseach to rule out cuts to the statutory minimum wage. It is alarming that he failed to rule out such an attack on the lowest paid workers in our society.
"Following the savage Budget cuts to wages, social welfare and public services, there were immediately calls from some representatives of business interests for a reduction in the minimum wage. That is exactly as trade unionists, Sinn Féin and others predicted – that an attack on the wages of lower-paid public service workers would lead to similar attacks in the private sector. Now the Taoiseach has refused to rule out a further attack on the least-well-off."
The Sinn Féin TD for Cavan/Monaghan also slated the Government's intention to amend industrial relations law to allow employers to apply to the Labour Court for an exemption from minimum pay safeguards.
"If these amendments are forced through then we will see pay rates across the economy driven down to the minimum wage level and below.
"Government policy is also encouraging profitable companies to lay off workers unnecessarily, as in Rye Valley Foods in Monaghan, or to impose unacceptable working conditions, as in Kingspan in County Cavan.

PUBLIC SERVANTS
Caoimhghín Ó Caoláin said that a reversal of pay cuts for lower-paid public servants must be put on the table if there is to be any hope of a resumption of social partnership negotiations.
"In the talks before the Budget the public service unions were prepared to agree sweeping changes in work practices that would have had major implications for workers across the health sector in particular. This was thrown away by the Government which is clearly determined to drive forward with a low-pay policy in the public and private sectors regardless of the consequences."
Meanwhile, the Government seems set on confrontation with public sector staff trying to stave off attacks on their living standards by threatening to suspend trade union members who work to rule.
Seventy thousand members of SIPTU this week joined other public sector unions in the campaign against pay cuts.
Also see: No level to which they won't stoop