4 February 2010 Edition
Sinn Féin attends Progressive London conference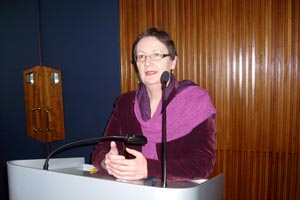 Encouraging signs that progressive left politics are alive and well in London and beyond were on show last Saturday, when over 700 activists and observers alike crowded into the annual 'Progressive London' conference.
Progressive London is headed up by Ken Livingstone, a long-time friend of Ireland and someone who made a vast improvement to the lives of Londoners during his term as mayor of that city. Since his unfortunate replacement by Tory toff Boris Johnson, Progressive London has developed as a broad, cross-party political alliance for change across many sectors.
Topics under discussion on the day included –
The need for the defence of public services;
Working to end poverty and inequality;
Trade union rights;
International solidarity with Palestine and progressive Latin America;
Strong opposition to Britain's involvement in imperial wars in Iraq and Afghanistan;
The need to end the waste of public money on the Trident missile system;
A progressive fight back against the right  – not just Cameron's Tories, but the xenophobic populism of the BNP; and
The need for an environmentally sustainable future, including tackling climate change.
These are all issues and causes with which Sinn Féin and Irish republicans can identify, and the party was proud to be part of the event. MEP Bairbre de Brún provided an enthralling eyewitness account of her recent visit to Gaza, and she drew the parallels with British imperialism in Ireland. Sean Oliver and Jayne Fisher from the party's British Department mingled with delegates – many of them old friends and comrades – answering queries, and providing updates on the current political negotiations in the peace process.
Appropriately 'Progressive London' held their event in the TUC's Congress House conference venue, since in two weeks time, Sinn Féin will be the hosts, as, on Saturday 20 February, Gerry Adams will host the party's 'Putting Irish unity on the agenda' conference, an event featuring a wide range of speakers from Britain  and Ireland.
For further information on 'Putting Irish Unity on the Agenda', see this week's 'Imeachtaí'/'Events' column, or log on to www.londonirishunityconference.org