4 February 2010 Edition
Government inaction feeds emigration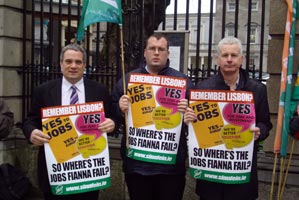 Responding to the latest live register figures which were published on Wednesday showing an increase of 13,000 people on the dole, Dublin Sinn Féin TD Aengus Ó Snodaigh said the government has left many thousands of Irish people with no option other than to emigrate.
He said the unemployment figure would be much higher if thousands hadn't already left our shores.  He added that the figures give a lie to the promise of jobs made by those campaigning for a Yes vote during last year's Lisbon referendum.
"The New Year has brought nothing to the people of this State but misery," he said. "Social welfare was slashed, thousands of homes are being repossessed and more and more people have become unemployed, as today's figures show.  
"The unemployment figure of 436,936 would be much higher had it not been for the thousands who have already left our shores.  
"The people of this state deserve better than Mary Coughlan as Minister for Enterprise, Trade and Employment. How many more people have to become unemployed and reliant on social welfare before she adopts a proper strategy for getting Ireland back to work?  
"An unemployment rate of 12.7% is not acceptable. It is people's lives and their welfare that is being ruined, and if Deputy Coughlan is not up to the challenge of taking Ireland out of the worst unemployment crisis this State has ever seen, her position as minister needs to be relinquished immediately."