4 February 2010 Edition
Another View by Eoin Ó Broin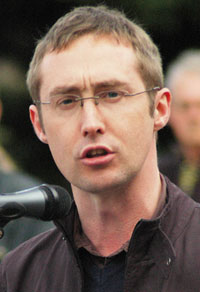 The housing Catch 22
Government fails to meet need despite oversupply of properties
There are more than 100,000 households on local authority waiting lists in the 26 Counties while 300,000 homes lie empty across the state. It just doesn't make any sense.
Official government figures claim that only 56,000 households are on the waiting list. However this figure is from April 2008.
Since then the recession has caused a dramatic increase in the numbers seeking social housing.
Last December, The Irish Independent published new figures obtained from the Department of the Environment which estimated that the housing list was closer to 100,000 households.
Even this figure is an underestimation, though, as the statistics exclude many categories of households, including those deemed by local authorities to be living in overcrowded or materially unsuitable accommodation, or people in transitional housing programmes.
In January the National Institute for Spatial and Regional Analysis (NISRA) released an estimate of the number of vacant homes in the state. Combining a number of sources of data they have estimated that there are 302,625 vacant homes, not including holiday homes, across the 26 Counties.
NISRA have also produced an interesting analysis of the relationship between house building and population growth, county by county.
Their study estimates that from 2006 to 2009 the supply of houses in the state outpaced projected population growth by 154%.
For example, in their study NISRA estimated that Dún-Laoghaire Rathdown would need an additional 538 units to meet its projected population growth from 2006 to 2009. However during that period an oversupply of 7,139 units of accommodation were built. That's an oversupply of 1,224%!
Dublin City Council had the largest oversupply in terms of actual numbers, with 15,363 units representing an oversupply of 401%. Cork County came second with an oversupply of 11,018 or 115%. Limerick City had the largest percentage oversupply in the state, with a massive 1,252%. Only Galway City came close to matching supply and demand, with a 2% oversupply.
Despite this oversupply of housing, in each of these areas housing waiting lists also increased during the same period.
If the Irish Independent figures published last December are correct, then local authority waiting lists have increased by 130% since 2005.
The newspaper's figures estimated that the waiting lists in Dún Laoghaire-Rathdown included 4,406 households; in Dublin City included 6,108 households; in Cork County included 4,880 households; and in Limerick included 1,468 households.
In each case, the number of vacant homes identified by NISRA significantly exceeds the number of families deemed by the Department of Environment to be in need of local authority housing.
The reason for this situation is very simple. During the Celtic Tiger housing supply was determined primarily by market forces, central government tax incentives, and developer-led planning decisions at a local level.
Little if any consideration was given to strategic planning based on social need.
Central and local government failure explains why there are hundreds of thousands of vacant homes side by side with hundreds of thousands of people in need of housing.

An Phoblacht Magazine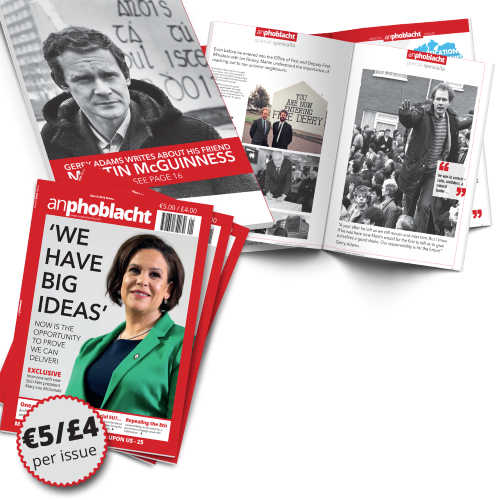 AN PHOBLACHT MAGAZINE:
The first edition of this new magazine will feature a 10 page special on the life and legacy of our leader Martin McGuinness to mark the first anniversary of his untimely passing.
It will include a personal reminiscence by Gerry Adams and contributions from the McGuinness family.
There will also be an exclusive interview with our new Uachtarán Mary Lou McDonald.
test