4 February 2010 Edition
Hanafin rejects call for special fuel payment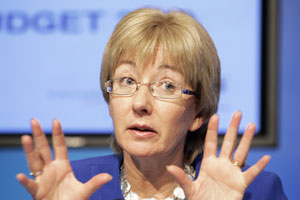 Sinn Féin's call for the introduction of a special emergency payment for recipients of Fuel Allowance to help them cope with continuing fuel costs in the wake of January's freezing weather conditions has been rejected by Social and Family Affairs Minister Mary Hanafin.
In a letter to Dáil Health & Children spokesperson Caoimhghín Ó Caoláin, Minister Hanafin directed people in need to the Community Welfare Service. She stated that a supplementary payment to all fuel allowance recipients would "not necessarily represent a good targeting of resources".  
In response Ó Caoláin said he was disappointed at the minister's rejection of his proposal.
"Many of the least well-off families and individuals already have spent a large part of their small incomes in attempting to keep their homes heated during the January freeze," he said. "By now, in many cases, their entire winter budget for fuel will have been exhausted. Therefore they need assistance to continue to heat their homes.  
"Directing people to the Community Welfare Service as the Minister does is not an adequate response. The Community Welfare system is daunting for most applicants and demeaning for some, with people feeling that they are begging for assistance.  
"Surveys have shown that almost 10% of households in this State experience fuel poverty. Given the unjust and unnecessary social welfare cuts in Budget 2010, as well as the withholding of the 2009 Christmas bonus, the very least that the Government should do is take exceptional measures to assist people in the least well off households."