21 January 2010 Edition
Sinn Féin politicians visit Gaza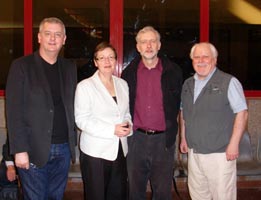 Sinn Féin representatives Bairbre de Brún MEP, Mayor of Derry City, Councillor Paul Fleming and Derry City Councillor Gerry MacLochlainn were among a contingent of 50 politicians from 13 different European countries who travelled into the Gaza Strip on Friday, entering the Palestinian region at the normally closed Rafah crossing. The heavily fortified frontier was opened on Friday in order to admit the large number of foreign politicians.
Derry Mayor Paul Fleming was en route to Gaza's second city, Khan Younis at the invitation of Muhammed al Farra, mayor of Khan Younis, to see the devastation caused by the Israeli bombardment and to discuss matters of mutual interest.
Fleming delivered a gift of medical supplies donated by Derry medical professionals to the Nasser Hospital in Khan Younis, which serves the whole southern Gaza Strip.
Meanwhile Councillor Gerry MacLochlainn from Derry and MEP Bairbre de Brún joined other politicians in a fact-finding mission.
MacLochlainn, who led a medical aid convoy to the Strip last May, was met by Dr Khamis A Elessi from Elwafa hospital. He revealed to MacLochlainn that a nine-year-old child the Derry representative had met during his trip in May had died soon afterwards, having been refused permission, under the conditions of the blockade, to be transferred to a hospital outside Gaza for treatment of his extensive injuries.
"This terrible news was not unexpected but I find it impossible to comprehend how any country could deliberately forbid a young boy from being transferred to a facility that might have been able to save his life," said MacLochlainn. "I believe that the Israeli authorities must stand accused of the most wicked of war crimes against a defenceless, innocent child.
Sinn Féin MEP Bairbre de Brún, who had been one of the first politicians to enter Gaza after the Israeli invasion, expressed her anger at the effects of the Israeli imposed blockade which is causing such misery and hardship to an already beleaguered people.
Delegation leader, Labour MP Gerald Kaufman, addressing the assembled Gazan MPs and government ministers, said the delegation would bear witness to the suffering of the Gazan people and while they are prevented from speaking out the assembled parliamentarians would carry their voice but "would not replace it."
The visiting politicians were then taken to the parliament chamber that had been devastated by Israeli bombs and rockets, where they joined local representatives for a meal in the shell of the destroyed building.
Paul Fleming is greeted on his arrival in Gaza