21 January 2010 Edition
Fianna Fáil and the Greens load the deck
The government's proposed Commission of Investigation into the banking crisis is an attempted whitewash of the facts.
The last Commission set up by the Fianna Fáil-led government was the Commission of Taxation, which was sent off with a narrow terms of reference, at great expense to the taxpayer, and then its findings were ignored by the government.
A full public inquiry into the banking crisis is required, involving the establishment of a Joint Oireachtas Committee inquiry. With all due respect to Professor Patrick Honohan, who was a prevailing force in calling for this inquiry, and other experts in the field, they should be working to an Oireachtas Committee, not setting the terms of reference for a private Commission investigation.
It is as yet unknown who will sit on this Commission or how much will it cost the taxpayer. Could not this work be undertaken by members of the Oireachtas at a great deal less cost to the taxpayer and with full public disclosure?
As it stands the public element of this process will be virtually non-existent. An Oireachtas Committee will see Professor Honohan and the other experts the government refers to in advance of compiling their reports and subsequent to writing it.  The committee will be allowed to comment on the report. But the government does not even say if the committee's comments will form the basis of the Commission's terms of reference.
The systemic failures that pre-empted this banking crisis and the fact that many of those involved are still in their positions requires a fully transparent examination of the facts.
This will be achieved through this process as set out by the government this week. This is an attempt to whitewash the truth before the inquiry has even taken place.
An Phoblacht Magazine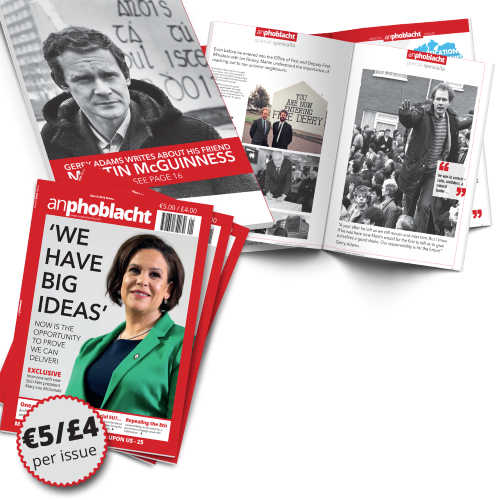 AN PHOBLACHT MAGAZINE:
The first edition of this new magazine will feature a 10 page special on the life and legacy of our leader Martin McGuinness to mark the first anniversary of his untimely passing.
It will include a personal reminiscence by Gerry Adams and contributions from the McGuinness family.
There will also be an exclusive interview with our new Uachtarán Mary Lou McDonald.
test