14 January 2010 Edition
Growing concern over dockers' outcome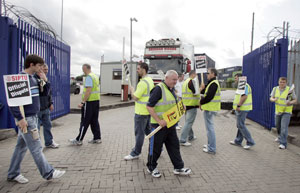 BY  BRENDAN KERR 
THE support group for the Dublin dockers sacked last year by cargo handlers MTL fear that the dispute may not be over.
Not one worker has actually got their job back despite the conclusion of a campaign well supported by local Docklands communities and the trade unions in Ireland and overseas.
This week, a support group spokesperson said:
"On behalf of the MTL strikers/workers, I have been asked to express their appreciation of the support given and the continued interest that has been shown.
"It is now almost 200 days since the strike began. The strike lasted 111 days and, since it ended, over 11 weeks have passed without a single worker getting their jobs back."
The statement said the "negotiation process" was deliberately prolonged by the company and the arbitration procedure was protracted "unacceptably and without explanation".
The arbitrator's ruling can be read in full at the official strike website http://www.mtl dockers.com


NO INDICATION
The support said that the arbitrator's ruling "can in no way be seen as a victory for the dockers" and is in no way comprehensive in addressing the issues which led to strike action.
"Even acknowledging the weakness of the ruling, there is still no indication when anybody will return to work.
"There is a growing concern that the situation at MTL is far from resolved. The support group hopes to be in a position to issue further information later this week."
Supporters are asked to check the website regularly for further news and developments.